Soon pass Tumbling Rock Shelter. In another 0.5 miles arrive at the junction of Birch Log Tr. Turn right here. As you ascend Birch Log Tr ( blazed with blue diamonds) pass a campsite on the right. Climb steadily for 2.1 miles. You'll gain about 1400 feet in elevation. This is the steepest part of the trip.
Arrive at the junction of the North/South Tr. As of this writing there is no sign but the trail is obvious. Turn right and in about a mile turn left onto the Laurelly Tr. Laurelly Tr starts as a footpath but shortly after passing a small campsite on the right and crossing the run connects with a railroad grade. Descend on the grade as it switchbacks to the valley below and arrive at a ford and the junction of Middle Fork Tr at 3.23 miles from the last trail junction.
There are 3 options here. There is a nice campsite to the left just after the ford. Camp there or turn left and hike 1.5 miles downstream to the junction of Big Beechy for some great camping or turn right (upstream) and hike 0.5 miles to good camping at the confluence of Hell For Certain Branch. There are sites on both sides of the river here. If you opt not to hike down to Big Beechy your trip will be 24 miles long.
Regardless of where you camp, to complete the trip follow the Middle Fork Trail for approximately 4 miles to the junction of the North Branch Tr. (This trail may be defunct but the sign is still there.) Continue straight on the Middle Fork Tr for another 2.3 miles. You'll pass a small campsite on the right before turning north, away from the stream, and finally reaching the North Fork Tr.
Turn right onto the North Fork Tr and follow it back to the original junction with the North/South Tr (1.14 miles). Turn left onto the North/South Tr and follow it back to your car.
Printable/Downloadable Directions and Trail Notes
______________________________________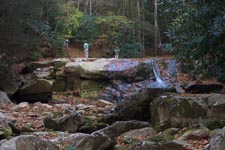 ______________________________________
Name: Garrick Hike: Cranberry Wilderness BP 1
Date: 6/14-6/16 2012 Rating: 4.5

Critique: Did this hike on 6/14/2012 and followed the route as listed in the trail notes. The weather was perfect for the three days we hiked. Absolutely loved it! Navigation was no problem with cairns and signs at every junction but thankfully no blazes. The North Fork trial has some wash outs and there are a number of down trees along the trail. Although some of the reroutes were tricky to locate overall it wasn't bad. We found a great campsite with a picnic table the first night between the two shelter houses along the forest road. The aptly named Birch log trail was in good condition although appears to be seldom used and the climb to the ridge top is challenging without being sadistic. The Laurelly Branch trail was soggy but otherwise nice. The Middle fork trail had some down trees but was in the best condition overall and we made amazing time hiking out on the third day. The wildlife was active as well; saw a deer that about wandered into our first camp, spooked some grouse, saw all kinds of fish in the river, butterflies, and a member of our group even saw a bear between the Three Forks Trail head and the waterfall campsite (great site btw).

We did run into two separate groups of hikers attempting the County Line Trail to the north of this hike and both were forced to bushwhack their way out due to the trail disappearing on them. One group seemed a little frazzled by the experience so steer clear of the Country Line trail if youre not prepared for some wilderness navigation. Overall great this is a great hike!
______________________________________
Name: Barb Rodekohr Hike: Cranberry Wilderness BP 1
Date: 4/14-16, 2012 Rating: 5

Critique: A group of six of us did this hike, following Mike's directions. We had no real problems with navigation. The junctions were signed and there are cairns at any confusing spots. In spite of it being an ideal weekend in April, we saw only one other party of backpackers, and a few bicyclists and fishermen on FR 76. That being said, the trails are in pretty rough shape in spots, with lots of blowdowns and berry canes blocking the way. If you want to hike on autopilot, don't do this one! This was my first trip to Cranberry Wilderness but won't be my last. It's a beautiful place, with beautiful streams and great campsites. We even got to have ramps for dinner.
______________________________________
Name: Boost Boy Hike: Cranberry Wilderness Loop
Date: Nov. 4-6, 2011 Rating: 3

Critique: Hey folks. I planned and invited 8 backpackers to do this listed 21+ mile loop, to include North Fork to FR102 to Birch Log to North-South to Laurelly Branch to Middle Fork trails, and the subsequent return to WV150.

We enjoyed the trip, HOWEVER, we could not complete the planned route. Read on. I would NOT recommend this loop to anyone without expert trail-finding skills, endurance-level athleticism, and a perverse liking for the pain that results from carrying full packs in VERY difficult terrain.

North Fork trail was easy to follow due to it's open nature, however the trail is currently very overgrown, and includes numerous downed trees, ankle-twisting erosion, and log obstacles. The main switchback to the right was cairned and fairly easy to follow. The two huge cut banks that occurred from flooding were another matter. The first we circumvented by climbing up a 20-foot sandy chute (no other choice) to find the trail. Luckily there were cairns up to the left to regain the trail. The second one we descended down into and went up the other side with careful climbing as well.

We camped just up the road on FR 102 along the river as a fisherman was already ensconced in the North Fork Shelter. Because of the difficulty of the hike day one, we voted and all decided to take a shorter route back via Tumbling Rock trail to North-South trail day two, and spend the last night in the Tea Creek Campground. Turned out the climb up Tumbling Rock challenged the best of our route-finding skills. Within the first 1/4 mile the trail goes right at a small cairn. If you miss this and continue up a very steep old overgrown forest road, you've gone too far. Later we lost the trail and reconnoitered two additional times, thankfully finding cairns we had passed after backtracking. Two crossings of the stream are required to make the climb correctly. Very difficult terrain and a very faint trail indeed. I have backpacked for 30 years and had a heck of a time staying on the trail as leader all day. As faint a trail as I have ever seen in places. Open forest compounded the
se issues at times.

After regaining the ridgeline, we turned right on the quite marginal North-South trail and headed back 4.9 miles towards WV 150. This trail climbed quite a bit at times (not much downhill at all), was overgrown and extremely muddy in places. It also had numerous downed trees and was just heinous overall. We lost the trail a couple more times, particularly after 2 huge separate downed trees. Came out just before dark. This 7.4 miles took us almost all day to hike out of. Again, I enjoy difficult terrain, but this was extreme. Next time I come, I will setup a base camp on the river and day-hike these trails. Not for the faint of heart. Tea Creek Campground was a blessing after the pounding we all took. My friends persevered (many were expert hikers) but all said next time send the invite to noreply@blistermail.com, ha,ha...-pd-
______________________________________
Name: Pat Campbell Hike: Cranberry BP
Date: 7/8/11 - 7/10/11 Rating: 4

Critique: Arrived at the North Fork Trailhead on Friday afternoon with rain coming down pretty heavy. Rather than starting the hike in the rain, we killed some time, and a couple beers, in the parking lot while we arranged our gear. By 3:00 PM the rain let up so we started hiking. A couple hours later we were at the first trailside campsite so we stopped there for the night. With a light rain falling, we set up my Ray Way tarp that is big enough for my son and myself. Uneventful evening and night.

Saturday morning we set off down the soggy, often overgrown trail. The trail follows an old road so it isn't hard to follow except in two spots. At one point it dead-ended into a tree. We had to climb up the embankment on all fours to get around. Later, after the trail crossed to the left side of the creek there is a section where the side of the hill collapsed, taking the trail with it. It wasn't to hard to just go downstream a ways, then bushwack up the hill to find the trail again. After a few more hours of slogging through the muck we arrived at the Cranberry River and claimed the North Fork shelter for the night. While resting, 3 hikers from Cincinatti stopped to chat and we had a good time comparing our similar experiences on the trail.

That evening we walked up the road to check out the liming station and had a black bear run across the road in front of us. Very cool.

The next morning we headed down the river to Tumbling Rock trail and went up to the junction with the North South trail. Tumbling Rock was nice, with a pretty good campsite about half way up. The North South trail had a couple good climbs, but was otherwise and easy hike. There are a couple good campsites along the way, but you have to realize there is no water, and hanging a bear bad would be a challenge with the type of trees that grow there.

I give this loop an A+ for wilderness experience and solitude, a C for scenery( zero vistas, but great wildflowers and other foliage ) And a generous B for trail quality. It was lots of fun and I'm glad to add it to my hiking scrapbook.
______________________________________
Name: Boost Boy Hike: Cranberry Wilderness
Date: 2008 Rating: Oh 5 Definitely!

Critique: Excellent loop having done both this one described, as well as other outings in the Glades. Just wanted to clear up the "orange" water. This is not due to acid rain, but is derived from tannins leaching out from the reaction of various conifers with the ground near steams. It looks like ice tea, but is quite clean. Obviously not potable without filtration, but a natural phenomenon. A pristine area for all to enjoy. Get out there! -pd-
______________________________________
Name: Bill Harvit Hike: Cranberry Wilderness
Date: July 16, 2010 Rating: 4

Critique: First, let me say thank you very much to the person who posted the description of the hike on this website. Quite frankly, the description was as valuable as the map. Additionally, I would caution anyone doing this hike to make sure they are proficient with a compass or GPS. Many of the trails have no markings and even some of the trail junctions are not marked.

The plants and trees were magnificent! Some of the prettiest scenery I have ever seen. I could spend an hour describing the beauty. However, the trails are VERY ROUGH and we had to work hard to complete the loop, which left little time for anything else. In fact, we had taken telescopic fishing poles in hopes of fishing, but simply did not have enough time.

Aside from seeing numerous bear tracks, we saw no wildlife whatsoever. In fact, there were few birds. Moreover, I was surprised that the streams were all a burnt orange color. What is going on? I have heard of acid rain, but have not seen its affects until now. At the risk of sounding political, I believe something must be done to address the acid rain problem.

In any event, I would recommend this hike to anyone who is experienced and wants the challenge of hiking in true wilderness. Also, this hike would be much more enjoyable over a four day period rather than a weekend.
______________________________________
Name: Jay Hike: Cranberry Wilderness
Date: 09/03/09-09/07/09 Rating: 3.5

Critique: First, great site. Lots of good info here.

My 10 year old son and myself did the Cranberry Wilderness loop as described here. Positives:If you like solitude, this is your hike. We never saw another person EXCEPT at the shelter at the forks of the rivers. Also saw workers coming into the Liming station but I won't count them either. Saw signs of bear, heard a couple of birds and rousted some grouse but that was it. Wildlife must not like it here either. There are some really nice camp sites along the trails. Pretty easy hike all the way around. We really liked walking through the pine areas with moss- covered rocks and vegetation everywhere. Seemed surreal at times. Negatives: Trail maintenance is awful. But that's why most of us hike, is the challenge. There was a lot of overgrowth, wading through waist- high weeds, trees, etc. Some of the trails needed cleared as some places were difficult to get around, especially when we were going downhill. And if you were not experienced in back- country trails, there were several areas where it be easy to get lost. Blazes would be a very good idea.
Reasoning for the 3.5 rating is maintenance and markings. I try to look at this is if I was going to recommend it to people. My 10 year old is a strong hiker and he even complained at times. On the other hand, I loved the solitude and am not sure I want more people coming here. Former mountaineer living in NC now. Coming here brings back a lot of memories. Will be back for the other hike soon enough.
M.R.Hyker Note: Read the government definition of "Wilderness" here.
______________________________________
Name: Jim Kirk Hike: Cranberry Wilderness BP (Modified)
Date: 7/06 Rating: 5

Critique: It had been nearly 20 years since I had hiked this.

North Fork had changed a LOT. Even more than after the 85 floods.

The liming station was a shock too.

Tumbling Rock was a chore in July especially since it was wet and a lot of trees were down near the top but it's probably the prettiest part of the hike. The place where the trail crosses the creek is super pretty and serene.

Started in the afternoon and camped maybe a mile above the liming station. Camped at Hell for Certain the next night and then walked out the next morning on Middle Fork.

Is there anyplace as pretty as Cranberry in the morning? The sunlight cutting thru the mist and trees.
______________________________________
Name: WVwanderer Hike: Cranberry Wilderness Backpack

Date: 05/27/06 to 05/29/06 Rating: 5

Critique: Hey Mike. My critique can be found on my Blog at http://wvwilderness.blogspot.com/ It was a great hike! Thanks for posting it!
______________________________________

Name: Ron & Heather Eshleman Hike: Cranberry Wilderness
Date: August 22-24th Rating: 4

Critique: This backpack was our first trip to the Cranberry Wilderness and we were not disappointed. The trailhead was easy to find along the beautiful & secluded Highway 150 near Richwood, WV. We were not looking for anything too strenuous and although this is a long backpack of 27 miles, it is a gentle grade. The camping was excellent and what a great surprise on day 2 to find a waterfall at Big Beechy Run with great camping. We were somewhat perplexed however, at the lack of wildlife...we saw no evidence of black bear, we saw no deer at all, and we did not even see a squirrel or chipmunk during the entire 3 days although we did see some grouse. This trip was planned spur of the moment so thank you to MidAtlanticHikes for the great maps and information!

______________________________________