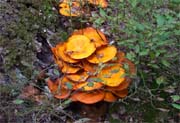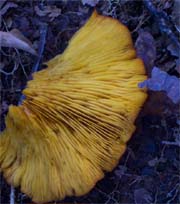 Omphalotus olearius, Jack-O-Lantern: Proported to glow in the dark. Poisonous! Location: King's Gap Environmental Learning Center, PA.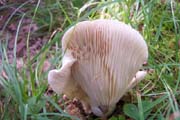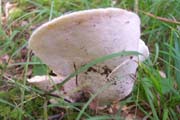 Pleurocybella porrigens, Angel Wings: Usually found in clusters on wood. This single individual was found growing on the ground on the Shenandoah Mountain Tr, Ramsey's Draft, GWNF, VA. Perhaps the wood was buried.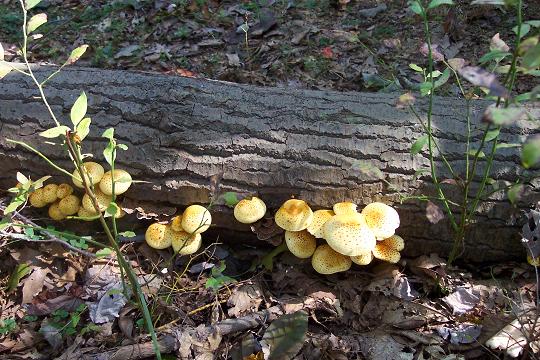 Pholiota aurivella: Golden Pholiota. Edibility good. Location: King's Gap Environmental Education Center, PA.
Mycena galericulata: Common Mycena. Location: King's Gap Environmental Education Center, PA.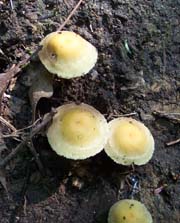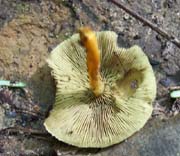 Naematoloma fasciculare, Sulfur Tuft: Grows on decaying wood (might be buried). Slightly olive colored gills. Poisonous. My personal name for these are "once over easy eggs". Location: Endless Wall Trail, New River Gorge National River, WV.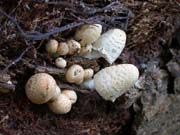 Coprinus variegatus, Scaly Ink Cap: Not edible. Grows on dead wood. Photo by Ken Clark.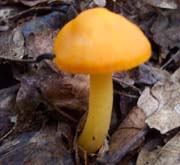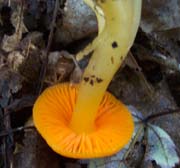 Mycena leaiana, Orange Mycena: All though its cap is only one inch across it is hard to miss this diminutive beauty in the woods. Cap bright orange. Gills orange to orange-pink. Stem hollow and orange to yellow. Usually found on wood. Location: Ramsey's Draft, GWNF, VA. \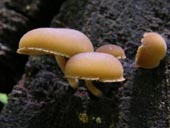 Tuberia furfuracea - Fringed Tuberia: 3/8 to 1-1/4" stalked mushroom. Cottony white hairs around base of stalk. Location: Catoctin Mountain NP, MD. Photo by Ken Clark.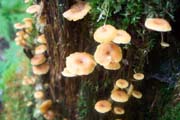 Marasmius anomalus: Grows on well-decayed wood. Dime sized buff/beige caps (3/8 to 1/2") and medium brown stems. Location: Otter Creek Tr, MNF, WV.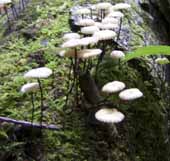 Marasmius rotula: Pinwheel Marasmius. Similar to M. anomalus (above) but caps are white and stems are dark brown/black. Location: Red Creek Tr, Dolly Sods, WV. Photo by Sean Van Cleve.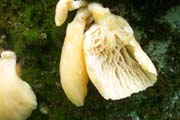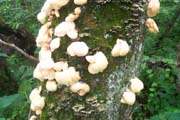 Pleurotus sapidus, Cornucopia Oyster Mushroom: Excellent edible. Mild oniony scent. Slimy and flesh colored. Location: Tea Creek Mt, MNF, WV.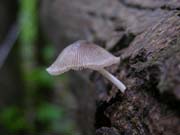 Mycena abramsii: No common name. Few details at this time. Location: Jug Bay, Patuxent River, MD. Photo by Ken Clark.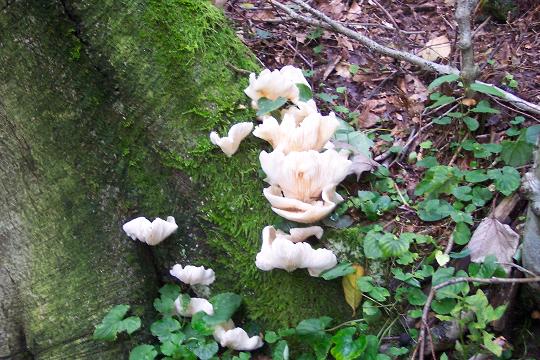 Pleurotus ostreatus: Oyster Mushroom. Choice eating. Location: Along a waterfall off of Little Stone Coal Trail, Dolly Sods, MNF, WV.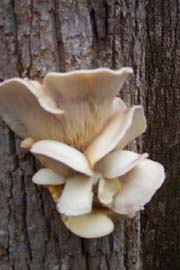 Panellus stipticus - Luminescent Panellus/Bitter Oyster: Grows year round. Cap is dingy white to pale brown. Flesh is yellowish pink. Grows year round but most common in Fall. Location: North Branch of Quantico Creek, Prince Williams Forest Park, VA.