Round Terminal Clusters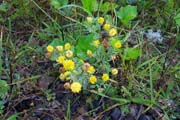 Hop Clover (Trifolium agrarium) : Grows along edges and roadsides. Blooms in summer. Location: Cranberry Wilderness.
Golden Alexander (Zizia aurea): In the Parsley family. Blooms in May. Location: Cornelius Creek Tr, Jefferson NF, VA.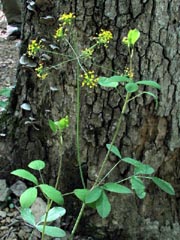 Yellow Pimpernel (Taenidia integerrima): Similar to Golden Alexander but with smaller flowers, thinner stems and smooth (vs. toothed leaves. Photo by Ken Clark.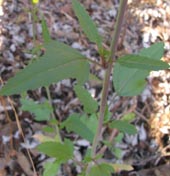 Black Mustard (Brasica nigra): Upper leaves smooth, small, narrow and lanceolate. Lower leaves large, bristly and coarsely lobed. Location: Fort Frederick SP, MD. Photo by Dimitri Tundra.
Round Terminal Clusters (Con't)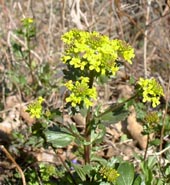 Winter Cress (Barbarea vulgaris): An alien. Early leaves can be used in salads. Photo by Dimitri Tundra.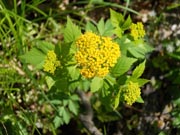 Meadow Parsnip (Thaspium trifoliatum): As the scientific name implies, the leaves are divided into three leaflets. Photo by David Bennick.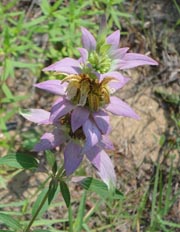 Horsemint (Monarda punctata): At first glance one might think they are looking at a pink or purple flower but these are merely the colorful leaves and bracts that surround pale yellow flowers with brown or purple dots. It reminds me of slightly old bananas. A member of the mint family that prefers open, sandy areas. location: Glendening Preserve, MD.
Others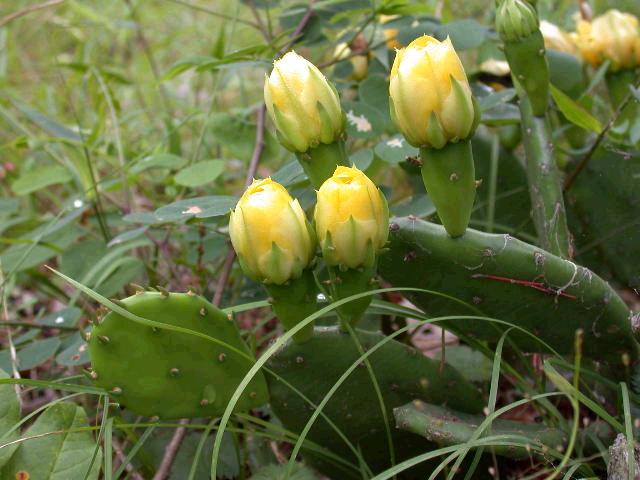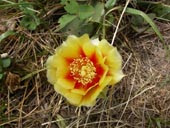 Prickly Pear Cactus (Opuntia humifusa): Just starting to bloom here. Location: Billy Goat Trail, Great Falls National Park, MD. Photo by Ken Clark. Close up by Dimitri Tundra.
Others (Con't)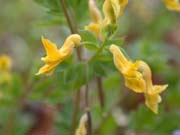 Yellow Harlequin Corydalis (Corydalis flavula): Flowers May-Sept. Very small flowers. Location: Shenk's Ferry Wild Flower Preserve, Holtwood Recreation Area, PA. Close-up by Ken Clark.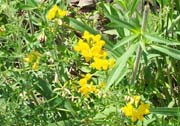 Bird's-foot Trefoil (Lotus corniculatus), invasive. Location: Double Pine Schoolhouse, Green Ridge SF, MD.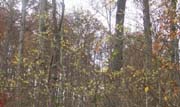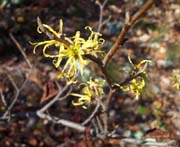 Witch Hazel (Hamamelis virginiana): The only shrub known to bloom in this region in November. Location: Along Passage Creek and the Tuscarora Trail, Massanutten Mt., GWNF, VA. Close up taken at Halfmoon Lookout, Great North Mt, GWNF, WV.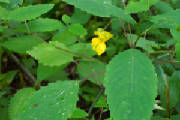 Pale Jewel Weed (Impatiens pallida): AKA Touch-Me-Not. Summer Bloomer. Location: SNP, Nicholson Hollow Trail.
Others (Con't)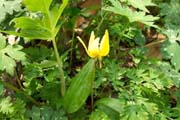 Trout Lily (Erythronium americanum): Stream-side plant but has also been found on PA ridge tops. Blooms in May. Location: Pond Run Trail, Green Ridge State Forest, MD.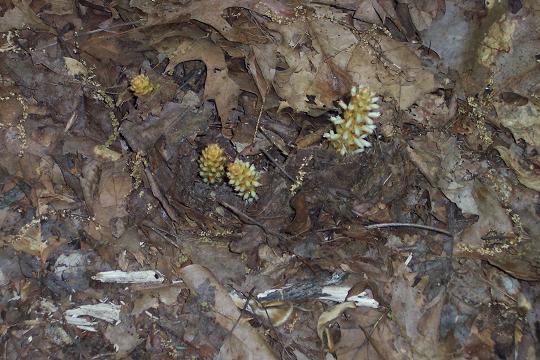 Squaw Root(Herniaria glabra ): Parasitic plant devoid of Chlorophyll. Gets it's nutrients from the roots of Oak trees. Location: Long Pond Trail, GRSF, MD.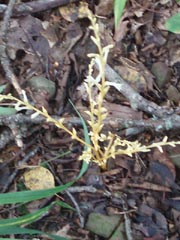 Beechdrops (Epifagus virginiana): Parasitic plant found growing only under Beech trees. Lacks Chlorophyll. Pale Yellow to red-brown. Location: Pochahontas Tr, WV.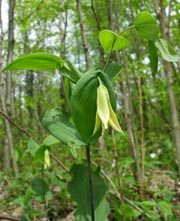 Perfoliated Bellwort (Uvularia perfoliata): Stems grow through the leaves as the flowers nod. Grows on dry mountain trails. Blooms in May. Location:G. Richard Thompson Wildlife Management Area, VA. 05/09. Photo by Ken Clark.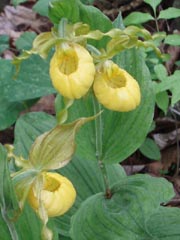 Yellow Lady's-Slippers (Cypripedum calceolus): In the orchid family. Related to Pink Lady's-Slippers. Two flowers on one stem (as shown here) is a rarity. Location G. Richard Thompson WMA, VA.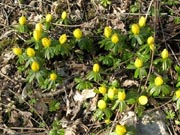 Winter Aconite (Eranthis hyemalis), native to Europe, blooms extremely early. It was apparently
planted long ago as ground cover; found near the Iron Furnace Exhibit at Oregon Ridge, MD. Photo by Ken Clark.