Turn left onto the pipeline swath and walk uphill for 0.45 miles to unsigned Chimney Rocks Road. Turn right. If you are doing the 7.6 or 8.0 mile version follow the woods road continue south-east on the woods road. In 0.69 miles come to a turn-out area. Blue blazed Tumbling Run Tr will come in from the left. If you are doing the shortest version you had just come down from the overlook. Turn left here. The woods road will be blue blazed. There are two woods roads that come in on the right. Stay on the blue blazed road!
In about 0.7 miles the trail will leave the road at a right turn onto a footpath. Follow the Tumbling Run trail for another 0.7 miles to its junction with the AT. Retrace your steps for the remaining 0.83 miles back to the cars.
______________________________________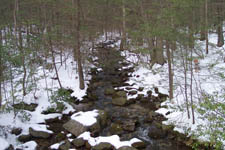 ______________________________________
Name: Terri V Hike: Chimney Rocks (Michaux State Forest) Loop
Date(s): 05/29/15 Ranking: 4
Critique: There haven't been any recent reviews of this hike, so I wanted to put in my two cents. I went on this hike today, and I really enjoyed it. The climb up to Chimney Rocks was quite a workout, but the view was really nice. I ended up going another couple of miles past Chimney Rocks on the AT -- relatively level ground -- and then turned around and came back via the AT instead of doing the loop hike. I was hiking by myself and wasn't 100% confident of the trail that I was supposed to take to get over to the return route and I didn't want to walk through the (very long) grass at the pipeline throughway. But it was a really nice out and back hike. But the most important thing I wanted to share is that THERE IS NO BASEBALL FIELD at the Old Forge picnic area anymore!! I was very confused about where to find the trailhead, but fortunately there were a couple of AT through hikers who came into the picnic area as I was looking around and they directed me to the trailhead. For reference, if you are looking at the big open grassy area from where you park your car, the trailhead is to the far right hand side right near a small building that stores fresh drinking water. Aside from that initial hiccup, it was a very enjoyable hike.
______________________________________
Name: Aisfor Hike: Chimney Rocks (Michaux State Forest) Loop
Date: 09/01/2012 Rating: 4

Critique: Loved this hike. The bugs were terrible but that is expected with the humidity and time of the year. We did the 6.2 mile loop. It was a little disconcerting to hear the crackle of guns from the target range which recently reopened but that did not take anything away from our hike. I am adding this to my list of local favorite hikes with a note to do during cooler weather. Can't wait to go again during the fall.
______________________________________
Name: Pascale & Loic Hike: Chimney Rocks (Michaux State Forest) Loop
Date: 01/14/2012 Rating: 4

Critique: Great hike very well marked. We did the 8 miles loop and enjoyed it even if it was a gray winter day.
This hike brought us to all kind of landscapes: first a rocky summit with a vista that really worth going up, then a quiet walk in various kind of forest and a cool way down using the woods road.

For those like me that do not know how a pipeline crossing looks like, it's simply a large way/path (about 50 yard wide) without any tree.
We barely had any snow and that was unfortunate because this would have been a perfect day-snowshoeing hike. Thanks a lot for giving us this idea :-)
______________________________________
Name: Harry Hike: Chimney Rock
Date: 4/24/10 Rating: 4

Critique: This is a good hike, especially considering that it is not too far from metropolitan areas (about 30 min. north of Frederick). I really like the tough steep part of the climb, but wished that wasn't it in terms of tough climbs (it definitely got the heart going though). I agree with others that the area near the water at the end is very nice/quiet/pretty/serene, albeit not much in the way of a workout. I found the directions to the parking lot on the website very confusing (and possibly wrong). Suggest telling folks to just take 16 West from 15; turn right in Waynesboro and take Old Forge Road directly to the parking area. It might be marginally longer but the directions make life so much easier and might avoid getting lost in the car like I did. Same for the trail...I made it down fine without any wrong turns, but was very confused by the directions and would not have made it if not for the critiques, which mentioned the wooden bridge and stream you pass on the way down at the end. Overall, one good view, one 30-40 min. steep climb, 3 hrs. or so total time, and some good quiet stream walking.
______________________________________
Name: Lou Hike: Chimney Rocks 4.5 Miles
Date: 4/10/2010 Rating: 5

Critique: So far this is my favorite hike. The best part is from crossing Old Forge Rd up to the peak via the AT. Its a very good workout without being too difficult. Great views from the peak and we had good weather as well; cool air and warm sunshine.

Thanks again to Mike for all his information on this hike.
______________________________________
Name: michelle Hike: Chimney Rock
Date: 4/3/2010 Rating: 5

Critique: This is one of the best hiking spots. The climb to the top is worth it to relax at Chimney Rocks. The bridge by Hermitage relaxing with my sweetie was the best. Thanks!
______________________________________
Name: somewhere Hike: Chimney Rocks
Date: 11/02/2008 Rating: 4

Critique: We did the 6.8 miles hike. The colorful mountain top view from Chimney Rocks was splendid. The stream on the way down was very pleasant as well. We really enjoyed the day. Thank you very much for the information!
______________________________________