10.3 mile option:
Pass Beecher Ridge Trail and stay on Matthew's Arm Trail for another 0.47 miles. Turn right onto yellow-blazed Weedlewood Trail.
In 1.32 miles turn right onto yellow-blazed Heiskell Hollow Trail and descend to the western terminus of yellow-blazed Beecher Ridge Trail.
Turn right onto the Beecher Ridge Trail, cross two streams and ascend to the crest of the hill.
At the junction with the blue-blazed Beecher Ridge-Overall Run connector trail turn left and follow the remainder of the
directions for the shorter version.
Printable/Downloadable Directions and Trail Notes
Read about our latest trip there.
________________________________________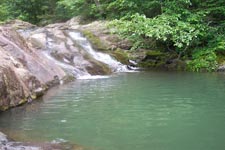 ________________________________________
Name: Dan Riffle
Date(s) of Hike: 09/06-7/2015
Hike Name: Overall Run/Beecher Ridge
Ranking: 3
Photo
Outing Critique: I recommend this one in spring or early summer. We went late summer--Labor Day weekend--and despite a decent rainstorm on Thursday night, there was very little water on the trail. You could hear water, but couldn't see any at the falls. The only significant source of water was near the Thompson Hollow connecter at the cascades. The water pooled there enough for a small swimming hole. If you go at this time, bring plenty of water and stock up when you find it.
The views at and shortly after the waterfall were spectacular. We started at Matthew's Arm, camped near the cascades, and came up Beecher Ridge the next day. The climb up Beecher Ridge was tough, and not particularly rewarding with little-to-no great views. We did spot a mamma bear and her two cubs dart across the trail about 125 yards in front of us (store food carefully--there are lots of black bears here). I can see how the Overall Run trail can be very rewarding in the summer.
________________________________________
Name: Jennifer Hike: Overall Run Falls-Heiskell Hollow
Date: 11/03/13 Rating: 4
Crirtique: We ended up hiking the trail in reverse, so we actually did not reach the falls until the hike started to decline back down the mountain. The view was fantastic! The low point of the hike was losing a bracelet that my mom gave me while I was expecting my daughter 5 years ago. I am hoping that anyone reading this review and taking this hike will take a moment to look for it on your trip. In a race against the sunset, we were really booking it back down the trail after the Great Falls. This is the steep rocky part of the trail. Well, I went down and recall snagging the bracelet on my walking stick, but did not think I had broken it. It is a thin silver chain bracelet with a single silver baby bootie charm on it.
________________________________________
Name: peter Hike: Overall Run Falls
Date: 2011-11-06 Rating: 4

Critique: start before noon. the falls are shadowed in the afternoon. got to falls at 3:30pm (last day of DST), the ridge nearby already blocked out sun. have to go back.

did short version, just to see the falls. parked at entrance to Matthew's arm campground, since gate was closed. walked down the road, went in parking lot. there are 3 paths on the right, 1st is marked Traces Trail, which borders the entire Matthews Arm Campground, the other 2 are a short loop that goes to a small amphitheater. took Traces Trail 0.4mi, first right for 0.1 to Tuscarora-Overall Run Trail, left on T-OR for 1.4, right on Matthews Arm Tr for 0.1, then left at to continue on T-OR tr for 0.4 to the OR falls.

don't be fooled by the first few cascades, beginning with one 30ft fall, then a nice rock to sit for about a dozen people group to look at the silly cascades, like a bunch of smaller step waterfalls. keep going for the 90ft fall, you'll know when you see it. the view of the perpendicular valley is awesome, and the waterfall's cool too.

turned around, turned right on Matthews Arm Trail 0.1mi again, then stayed right to stay on Matthews Arm Tr for 0.4 instead of going left back on T-OR Tr, no difference in distance, just a change of scenery. loops>out&back. left to stay on Matthews Arm for 0.3, left again to stay on MA for 0.3, straight on MA for 0.2, veered right to not goto MA Campground, 0.5, didn't want to walk on road, arrive at big parking lot with amphitheater, looked at that, started walking back up the road and noticed a trail marker on the right, right across from the beginning of the parking lot, a much less used trail, but one none the less, and still didn't want to walk on road, it's more straight, and so a bit steeper, follows telephone wires 0.6, then at entrance to Matthews Arm Rd.

about 5.9mi & 4.5 hours, including 1 hour lunch at falls, seemed like shortest & quickest route to see the falls.
________________________________________
Name: Saki and Rocky Hike: Overall Run Falls-Heiskell Hollow
Date: 03/19/2011 Rating: 4
Critique: About 3 miles of this hike are truly spectacular. That part would certainly get a 5+ rating in my book and is reason in and of itself to visit. The views of the falls, the rushing water, and the valley are breathtaking. But many of the other parts are mediocre or good, particularly when the trees are without leaves. There are lots of difficult stream crossings. This is a great springtime hike, when there is still plenty of water in the creeks, leaves on the trees, and it is warm enough to jump in the swimming hole.
Read Saki's full report here.
________________________________________
Name: Ryan Mitchell Hike: Overall Run Falls-Heiskell Hollow
Date: 1/21/09 - 1/22/09 Rating: 4

Critique: My roommate and I hiked and camped using the planned trip from the NPS with a couple extra miles added. Our goal, as two guys who hike regularly, was to complete the three day trip in less than two days. We successfully did at the cost of sore legs from both us and our dogs. The trip begins downhill all the way to the great views at the falls and surrounding area. The uphill back to 3,500 ft from the valley is what makes this hike strenuous. The trail was rocky and covered with leaves in many locations and crossing streams with dogs was interesting at times. After about 13-14 miles we camped in the 20 degree weather and woke the next morning to another uphill hike of 5+ miles.

Overall, it was a very good hike that was as good as any other trip we have taken in the northern portion of the Shenandoah. The lack of spectacular views on the Heiskell Hollow trail, even with the leafless trees of winter, keep this from being a 5.
________________________________________
Name: Michael Eckert Hike: Beecher Ridge/Overall Run
Date: 1/3/09 Rating: 5++

Critique: Great, Great Hike. Parked at Hogback overlook and took AT and several other short trails to Beecher then hooked up with Overall Run and back to top. Beecher is more of a culvert in many areas and leaves are knee deep. Can't see where/what you are stepping on so be very careful. Hike up to Overall Run Falls was a burner. Legs are still ground beef tonight. Overall Run Falls is Frozen.
________________________________________
Name: Carol Branscome Hike: Overall Run Hike
Date: 8/1/08 Rating: 3.5

Critique: Started at the parking lot at the entrance to Matthews Arms Campground and did the long loop counter clockwise. Falls were very low and most of the creek was dried up. It was a hazy day so views of the valley were limited. Also agree on Heiskell Trail - basically an old road with years worth of leaves on it. Saw lots of bear scat. Would not recommend this hike for mid-summer. Take lots of water.
________________________________________
Name: Rahul Gundala Hike: Overall Run Hike
Date: 05/03/2008 Rating: 5

Critique: We went on this hike on a beautiful spring Saturday and everything was wonderful. We did the shorter version of it(6.4mi) and it was a good workout. We started on the AT at the end of the parking lot next to the Hogback Overlook and took a right onto Overall Run/Tuscarora trail and followed it all the way to the waterfalls. As it rained before there was plenty of water. The whole hike was beautiful. While going it was downwards but coming back was strenuous as it requires a lot of climbing. We started our hike around 1:30 and were back in the parking lot around 6:00. We met several other people on the way and at the waterfalls. No wild life during the hike but on our way back saw some deer. Overall this was a good hike to start the season with.
________________________________________
Name: Galen Hike: Overall Run loop
Date: 1-13-08 Rating: 2

Critique: This hike deserves its strenuous rating, mostly for its steep sections and rocky paths. Pretty hard on the feet. Did this one clockwise, with the falls first. The hard ascent is worth the view from up top. You can see mountains and the falls from high above, on a rock ledge of your choosing. From there, it's pretty much over as far as scenery goes. Maybe it's because the streams were dry or that all the wildlife was on vacation or that every 30 feet there was a tree laying across the path, but I didn't see much redeeming value in the Heiskell trail. Nothing but trees and knee-pounding, leaf-covered rocky trail. In my opinion it's not a particularly bad hike, but there are other, more appealing hikes nearby.
________________________________________
Name: Kris Hike: Overall Run
Date: 07/01/2007 Rating: 5

Critique: I can't say enough about this hike! Top on my list of memorable hikes! This was a perfect outing on a cloudless and DRY summer day. I did the shorter circuit due to a lack of time and the fact that I had not been out for about a month. I did the circuit counter clockwise, as I wanted to save the falls for later in the hike, and because there were some rowdy folks going the other way. The ascent up Beecher Ridge is steady and gives a good workout without being too taxing. The trail is somewhat overgrown early on but opens up nicely. The woods are beautiful! I also liked that the views heading down Matthews Arm were straight ahead as you descend Matthews Arm. The vista from the Overall Run Falls overlook is spectacular. I had my fourth bear sighting this year just after re-entering the dense woods at the bottom of Matthews Arm along Overall Run. Beautiful to behold. The end of the hike was capped off by the most fabulous swimming holes I have ever seen! It felt great to swim after this rewarding hike. The holes were 6+ feet deep in places! I can't wait to do this hike again for the longer version and perhaps during Fall foliage season!
________________________________________
Name: Joe Hike: Overall Run-7.6 mile option
Date: 3-31-07 Rating: 5

Critique: Excellent hike. I am a local who grew up playing in the Massanutten range and I have never seen anything quite like this. The view of the valley, the canyon, and the falls themselves are just spectacular. One point - do not be discouraged by the "strenuous" level of the hike-if my 5 lb Yorkshire terrier can make it, anyone can.
________________________________________
Name: Clam.Digger Hike: Overall Run/Beecher Ridge
Date: July 13, 2006 Rating: 5

Critique: I really only wanted to hike down to the falls (Which were nearly dry anyway) and ended up doing the whole nine with nothing more than a liter of water! I did the hike described here backwards with a different starting point. At the very back of Mathews Arm Campground there is an old dirt road (Not sure of the name) that is cabled off that leads straight down and turns in to the Overall Run Trail. This takes you pretty much straight down to the stream where you hook up with the connector trail. At the end of the connector trail is a trail marker with a metal tag that is incorrectly pointing Overall towards Heiskell Hollow. Someone has scratched the correction on it but it is still confusing, and with out a map you will be guessing. All in all a great hike that I would do again, perhaps in the spring when the falls are more active. Doing the hike as this website describes saves you the 3 mile hike straight up at the end.
________________________________________
Name: Cham Green Hike: Overall Run
Date: 10/8/06 Rating: 5

Critique: For those that like ascents you can squeeze in a few more feet if you take the connector trail up to Hogback overlook. Be prepared for a 3 dicey stream crossings on Overall Run after a long hard rain. You will find lots of people near the top of the mountain but less so near the bottom of this hike.
________________________________________
Name: Jamie Hike: Overall Run Circuit
Date: July 1, 2006 Rating: 4

Critique: Great hike with some beautiful views but very hard on the ankles with all of the rocks.
________________________________________