________________________________________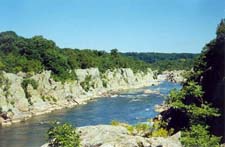 ________________________________________
Name: Elizabeth
Date(s) of Hike: 7/24/2015
Hike Name: Billy Goat Trail - Section A
Ranking: 3
Outing Critique: For the past year or so I have been coming to this trail and running it a couple times a week, all 4 seasons. It is great exercise and makes trail running more interesting/fun with the intermittent rock scrambles. During the summer remember your Camelbak, etc. Also, the trail is nearly always busy (unless you're running it at 7AM in January!!), but folks are pretty relaxed when you politely say "excuse me" and pass them. One thing I will say is that the trail is not nearly as "difficult" as the NPS warning, so even if you're nervous about going or haven't done any hiking, don't let it stop you. Just go for it! It is really beautiful and fun, whether you're taking it slowly as a beginner or running it regularly. Wear trail shoes or athletic shoes with good grip and you will be totally fine!
________________________________________
Name: Nole Hike Billy Goat Trail - Section A
Date(s) of Hike:05/25/2015 Ranking : 5
Critique: I love this trail. The views are beautiful along the Potomac river, especially early in the season when the meltwater still has the river running high and fast. The best times to go are weekdays or late afternoon on a weekend, provided you know how much time you take on the trail and how much daylight you have left. There are many places where the rocks are intimidating, especially if you are afraid of heights (like I am). In most instances though, it's easier to jump from rock to rock than it is try to climb around them. Wear good boots and it's no problem. I regularly complete this trail in less than an hour, a little more if I stop to look at everything. It's pretty much my favorite place in the entire DC area and worth the effort.
________________________________________
Name: Tammy Hike: Billy Goat A
Date: 07/07/13 Rating: 4
Critique: I have hiked this trail many times for many years as well as every trail around. I am over 50 and I'm fairly active. It is fun however I do not hike alone because you never know what can happen. A twisted ankle, snake bite, bad cut, or as the case yesterday... not enough water. The older you get the more water you need. Please understand, the rocks are extremely hot in summer and you should bring gloves. Plus double your water. This trip in the fall can be done with 1-2 bottles of water for the over 50 group, in the summer you will need 2-4 bottles of water. Yesterday, my son forgot 2 bottles of water in the car and I began to dehydrate rapidly from heat. When you are older, once you dehydrate it is very difficult to regain control of staying hydrated. We managed because we have hiked so much. It was an easy oversight for my 16 year old boy and lesson learned. Bring water... lots of it. And a snack or 2. It is a fun hike, very family friendly but if you have knee issues, hip issues, back issues please work up to it first and do not go in mid summer because you won't like it and really.... it's the most wonderful place in the world. Fall is beautiful and cool... enjoy
________________________________________
Name: Desiree Hike: Billy Goat Trial A
Date: 4/7/2013 Rating: 4

Critique: I thought I would add my critique. As a person with multiple (read 15) knee surgeries and currently in knees braces, and multiple foot surgeries, I was a little nervous going into this hike due to the rocky surfaces and inclines. It was for good reason. If you have legitimate lower joint, back, or neck issues this hike will be very difficult for you. However, it is doable. I made it. I am sore but am functional. It was beautiful and offered great views not available from other vistas or sites. My advice is to know your limits. I am young and active and I am headed to total knee replacement anyway so my boundaries are a bit loose. If you know your body cannot handle inclines, rocky terrain and climbing this is not the hike for you.
________________________________________
Name: graham jones Hike: Billy Goat A
Date: 3 Dec 2012 Rating: 4

Critique: After reading all the warning notices, I was apprehensive about doing this trail alone. I need not have worried. It was easy, and seemed to be used some as little more than a stroll. True there is some boulder scrambling to be done, but this is tedious rather than hazardous. Most 10 year olds would find it easy. The only iffy bit is the cliff face, and if you walk anti-clockwise and climb rather than descend, it is straightforward. To give some perspective to the difficulty of the walk; of the thirty or so people I met, only three had boots, and a few walkers wore flip flops or sandals and were dressed in beach wear. In other words, the dangers are grossly exaggerated, as is the time needed. I took 90 minutes and that included a picnic and numerous stops for photographs or just to admire the views. The latter are splendid and make the trail worthwhile
________________________________________
Name: Chris J Hike: Billy Goat Trail A
Date: 11/25/12 Rating: 4

Critique: went on Sunday morning at 11 am so we did run into 3-4 other groups of hikers but it was by no means crowded. Good light warm ups on the tow path and small rock scrambles. The one larger climb up the rock face was a lot of fun and at that point we were definitely glad to have other hikers' input. We left back to the towpath at trail marker 2 so overall took about 1 hr 15 min. Great easier hike with a good mix of light hiking and fun rock climbing!
________________________________________
Name: Ryan Richie Hike: Billy Goat Trail, Section A
Date: 8/20/12 Rating: 4

Critique: Best strenuous hike near D.C. I would say that so long as you don't have balance problems and/or a fear of heights, anyone should be able to do this hike. Caveat- it is all in how fast you want to do it. For a real challenge try running it- with the understanding that there will be some areas where you'll have to slow down (the rock scrambling sections). I give it a 4 simply because it can get crowded- though I have been there plenty of times when it's not. My recommendation- pay the $5 to get into the park and hike it North to South. Why- you get to hit the rock wall as a climb rather than a descent- much more fun and challenging to see how fast you can get up it. Watch for snakes- I have run across black snakes and copperheads on and near the trail- leave them alone though and they will leave you alone too.
________________________________________
Name: Christi Hike: BGT-A
Date: 4/28/12 Rating: 5

Critique: We loved it. I couldn't have done this 30 pound ago, and before I started running though. Its pretty difficult, and we turned around when we got to the very difficult rocks, didn't make it to the traverse, but my 5 year old said it was "awesome" and wants to go back soon!
________________________________________
Name: CPL Hike: Billy Goat Trail A
Date: 12/29/2011 Rating: 5

Critique: I am not a frequent hiker and just moved to the area. I was originally put off trying trail A by the NPS warnings that this is a "demanding" hike. I decided to try it anyway presuming that this was some over the top legal team writing this stuff. It is. There are kids as young as 10 or 11 on this trail. As long as you are comfortable walking over boulders you will be just fine. Good shoes a must. Posting in case anyone else has any doubts. Winter appears to be the best time to go, it was very quiet and i maybe ran into 20 people over the entire loop. Doing this in summer seems like it would just be miserable - the number of locations you are likely to run into substantial bottlenecks are too many to count. Go in winter, bring good shoes.
________________________________________
Name: Leslie Hike: Billy Goat Trail - A
Date: 7/31/11 Rating: 4

Critique: I thought this trail was amazing. I'm not sure I would say it was for beginners. It has some steep declines/inclines on rocks and it would be challenging for beginners. I loved every minute of it. You would never even know that you were near a city and a crazy beltway. The views are gorgeous. It's a perfect day. I highly recommend this hike and can't wait to do it again.
________________________________________
Name: Tiauna Rodgers Hike: Billy Goat Trail-A
Date: 05/13/10 Rating: 5

Critique: I hiked the BGT-A with my daughter's 4th grade class. Now mind you playing in the rough outdoors was something I have not done since I was in the fourth grade. So i took a step out side the box. (** wondering why I was the only parent in attendance**) As we started the kids were excited and full of energy, so I was feeling the same. As we entered the trail, I was saying what a piece of cake this was. But I spoke to soon, me being a regular of the local gym I figured this would be a long walk with minimal climbing. Boy was I wrong, as we got further into the trail I realized I bit off more than i could chew. The cliffs and the climb up the diagonal summit (which I consider a mountain since its the biggest thing I have ever climbed) had me praying and swearing at the same time. Once to the top I felt I could accomplish anything, and I did I completed BGT-A without any broken bones or scars and I kept up with a bunch of fourth graders. This was a great experience and my daughter and I plan to go back and walk more trails. Doing this brought out a side in me I did not know existed and I had fun. ("Now just paying for it in Pain"....LOL) I will return.
________________________________________
Name: Susan Neill Hike: Billy Goat Trails A&B
Date: 11/21/09 Rating: 3

Critique: I have to give BGT-A a 3 because of the high volume of human traffic. I like peace and solitude on my hikes (too much to ask for so close to D.C.), and the endless parade of boy scouts, cub scouts and hiking clubs made this a noisy hike, to say the least. The trail itself is an exciting one, and Mike is right: hikers with balance problems - of whom I am one - should come prepared. It's full of places that require hopping from one narrow boulder ledge to another, and several deep, water-filled potholes that must be gotten around along ledges. I went up the cliff, which seemed easier than going down (to begin the hike so you'll approach the rock face from its base rather than summit, begin the hike at the trail head closest to the Park's entrance). It is a rather shear rock face, but foot holds are fairly easy.

The next time I hike the BGT-A will have to be on a weekday.
________________________________________
Name: ThatGuy Hike: Billy Goat Trail Section A
Date: 1/10/8 Rating: 5

Critique: It is a great trail but some people are intimidated by the Traverse (the cliff in the middle). It is a very heavily used trail, so the park encourages people to stay on the marked footpath and not venture into the middle of the island. Also they like to encourage people to also visit Billy Goat Trails B and C. The B section is just down stream from Angler's Inn, the C section from Carderock.

Sorry to be 'that guy', but the reason dogs are banned from the Billy Goat Trail Section A is because it is such a heavily used trail and they tend to get in the way. Also it is on an island (Bear Island) and the presence of dogs freaks out the animals and they don't really have any place to go. Despite people saying how well behaved their fido is, I have seen them chasing animals and getting into fights with other dogs. Not to mention they are tick magnets.

People with dogs that can't handle the traverse or other rocky parts of the trail tend to make their own path through the middle of the habitat, which doesn't help with the whole animals on an island thing.

Dogs are allowed on Sections B and C, which are much more suited for them I think.
________________________________________
Name: Cory Hike: Billy Goat Trail - A
Date: 8/5/2007 Rating: 4

Critique: This was the second hike I have done in the DC area and decided to do the MD side of the Great Falls Park. I found the C&O Trail area very interesting and well maintained and loved the Billy Goad Trail! It was very challenging for me (I'm still way out of shape at this point) but the 1.7 mi route across the rocks was so engaging that I didn't notice how tired it made me until I was walking back to the start point on the tow path. Overall, it's just absolutely beautiful. Since the $5 entrance fee from the VA side was valid for this side (3 day pass) it was a free hike on this day. There are more Billy Goat trails that are south of this loop and I intend to explore them next. This is a true treasure for somewhere so close to the DC metro area.
________________________________________
Name: Lauren Hike: Billy Goat Trail
Date: June 17, 2007 Rating: 4

Critique: I highly enjoyed this hike. While Section A is only 1.7 miles long, it feels much longer. I only started doing day hikes during this summer, and though I have done trails at least twice as long as Billy Goat Section A, I found this hike to be especially exhausting. Don't get me wrong... it's the best kind of exhausting I've ever experienced! You really feel like you've accomplished something.

The endless spectacular views and the rock scrambling/climbing made the trail one of the most diverse and exciting trails I've hiked, and at times I felt that I had been transported away from Maryland to somewhere out West! I highly recommend this trail for beginners who, like I, have had some experience on a couple of moderate trails under their belt and want to experience something more exciting than just an endless green tunnel.
________________________________________