________________________________________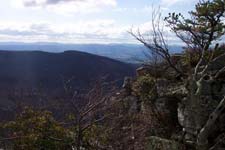 ________________________________________
Name: Scott
Date(s) of Hike: /11/15-7/12/15
Hike Name: Big Schloss
Ranking: 3

Outing Critique: Big Schloss is amazing, one of the best views in the Blue Ridge from what I've seen. The trail is well marked and the directions on this website work very well. There are also a number of nice campsites along the way. However, I did find 2 issues. If you're hiking this trail in the summer when the leaves are out, expect to have very few views other than Big Schloss itself. It was literally a green tunnel for the rest of the hike, other than one small overlook. This may well be different during different seasons. Second, the section of the trail between the Big Schloss cutoff trail and the Big Schloss spur trail is very, very overgrown. I am writing this 3 days after my hike and am still itching from all of the nettle and thorn pricks.

All of that being said, Big Schloss is spectacular.

_______________________________________
Name: Craig Hardy Hike: Big Schloss
Date(s): 02/22-23/14 Rating: 5
Critique: I did this hike as a 1st backpack of the season thinking that the weather was great in Richmond so it would be good in the mountains. What a surprise to see so much snow. I attempted to do this hike as outlined in the Hiking VA guide book by Bill and Mary Burnham. You find the trailhead on Waites Run Road as you make your way behind the town of Wardensville, WV. The trail starts off just near the bridge and quickly gains elevation following the main creek with multiple crossings. As there was a lot of snow runoff, the water was really flowing. The trail tops out in a hardwood forest on the ridge with a major intersection of the Tuscarora, Half Moon, and Mill Mountain Trails. Interestingly there are several board walks in this section, presumably for the bog type environment. I then hiked in very deep snow in the direction of Big Schloss. The guidebook says to stay on the new Tuscarora trail and not take the cutoff so I did that on the way up. On the way back I did break bad and follow this cutoff to save time and not have to walk so far in the snow. I saw the airway beacon ruins and did not think it was such a much. I did meet up with a group of guys from PA at the Sandstone spring and thought it was a nice place to camp. The next item of note was the overlook on the Mill Mountain trail The view was pretty amazing. I caught a glimpse of Big Schloss off to the left and decided to push on. The view from the top was amazing and even more so was the feat of engineering to have built a huge footbridge at the top of the mountain. I have often wondered how they got the material up there. It had to be by helicopter. Sadly there were folks setting up camp at the summit. It was getting late so it was time to head down. I made it back to Sandstone Spring to find I had this great site to myself. I saw the other review and hope that I do not catch anything as I did not filter my water. The next day was a bit easier as a bit more snow did melt overnight and I was back tracking in a lot of my own footprints. I did not see a soul on the way back down Sunday am. I really want to come back here in the summer when the weather is warmer. This is a great hike with a great view. I highly recommend it.
_______________________________________
Name: Fernando Hike: Big Schloss
Date: 4/13/2013 - 4/14-2013 Rating: 5

Critique: Great hike. We turned this into a 17+ mile backpack by adding an extension to Half Moon lookout (take Tuscarosa Trail past Mill Mtn Trail, descend 1.5 miles to intersection and take yellow blaze to lookout. There is a great unmarked overlook and campsite right at the intersection)-- highly recommended. Mid April with 60 degree temps during the day and 30s at night. Didn't see much water once we headed down Mill Mtn. Camped at Sandstone spring which was flowing (treat water, said to have giardia). Great solitude, tough but fun trail. Didn't see anyone except near Big Schloss. Much of Mill Mtn Trail follows the ridge and you can see mountains to the east (Blue Ridge) and west (Allegheny). Timber rattlesnakes are active in the area and we were greeted by a huge rattler on our ascent up Stony Creek. Great campsites everywhere, a great alternate to SNP. I will be back to explore White Rocks and other nearby peaks in GWNF. I used PATC Map F and found the Lee
District Rangers to be really helpful. The trails are well marked and easy to navigate. As noted, the descent on the cutoff trail is brutal (though brief).

This is my first review though I use the site often. Thanks for this website-- it is really an incredible resource.
_______________________________________
Name: Bogdan Hike: Big Schloss
Date: 12/16/12 Rating:

Critique: Big Schloss is indeed a special place, but perhaps camping should be restricted on the outcrop. An alarming amount of living woody vegetation has been hacked away to serve as firewood for the numerous campsites near the peak. The plant communities found on the rock outcrops are astounding for their ability to exist in a windswept environment with minimal organic material and should be admired, not burned to cook your hot dogs. While it may be "cool" to camp on Big Schloss, there are multiple campsite options nearby in which short hikes to the rocks can be made.
M.R. Hyker Note: While the PATC or Forest Service could post the proper signage it would probably just be used for fire wood.
_______________________________________
Name: Travis Murphy Hike: Big Schloss
Date: Oct. 26 - 27th, 2012 Rating: 4

Critique: We did this hike as precisely as outlined by the Author. The first day started out overcast and in the 50's. The hike up Little Stony Creek trail was very enjoyable and offered a few nice views of the creek at the beginning. About the first half mile of this trail is not that bad of elevation gain. After the first half mile the trail starts to steadily gain in elevation and becomes more of a strenuous hike, although it is still not that bad if you have done hiking before. We stopped and ate lunch at the cabin before making our way up the Tuscarora/Pond Run Trail. This is a wide access trail that is very easy to navigate. After being on this trail for half a mile, we came to the intersection to pick up the Mill Mountain Trail. This trail starts out uphill, but levels off once you reach the top of the ridge. The old beacon tower is grown up now and is not a very big grassy area. It is now overgrown in brush with the exception of a small access trail and a small clearing where the tower used to sit.

We made our way to Sandstone Spring where we topped off our water supply as well as filled a 4 liter water tank for use at camp for the night. We set-up camp a short way up from the spring in a campsite off to the left. This was a nice site with plenty of space and a nice fire ring. Firewood is scarce, so be prepared to walk down the main trail a ways to find some.

We woke the next morning to a damp and chilly surprise. We hit the trail around 9am on our way to Big Schloss. We stopped at the unnamed vista, which was a beautiful, foggy morning view. At this point the rain started to fall, so we put on our shells and continued on our hike. We reached the intersection of the Mill Mountain and Big Schloss Cutoff. At this point we dropped our packs and hiked towards the Big Schloss Trail.

We made it to the summit of Big Schloss, but it was very overcrowded. There was a bus trip from DC with about 40 hikers from an area hiking Club on the trail, and summit. The rain and weather made the views very foggy, but it was still a very enjoyable site and climb. After a while enjoying the Schloss, we made it back down and backtracked to our packs. We picked up our pack and continued down the cutoff trail back to the parking area and our vehicle.

Overall, this was a very enjoyable hike. Very clearly marked trails with enjoyable scenery. This hike would have been more enjoyable without the 40'some people from the hiking club trying to get to the top of Big Schloss, but it was pleasant talking to them. I will definitely do this one again in the spring when the weather is projected to be better.
________________________________________
Name: .com Hike: Big Schloss
Date: Oct. 27, 2012 Rating: 5

Critique: A great hike, interesting terrain, lovely woods. Trail was leaf-covered so footing was tricky since the leaves covered the rocks. At one point it was helpful to use hiking poles so as to better navigate along the hidden rocks. Weather was foggy & slight drizzle, fog always enhances a hike in the woods. Mike's directions were right on, except for locating FS 92. There is a brown sign painted w/ 92 & nailed to a tree, but it can be hard to spot. We had to turn around and backtrack a bit. Mike's trail descriptions & map were excellent, and definitely needed to complete this hike safely. We decided to skip hiking up Big Schloss due to no views & light rain, so will return again. Next time maybe an overnight, there are so many lovely campsites along the way. Thanks, Mike, for listing such a great hike!
________________________________________
Name: Jon Lee Hike: Big Schloss
Date: 10/6/2012-10/7/2012 Rating: 4

Critique: Overall a great hike. Amazing views and fall foliage made the hike spectacular. Did not get to see much wildlife except maybe an owl. There were a few other groups on the hike but not too packed. Drove down with a friend from Baltimore and met up with another friend from North Carolina. Trailhead was a little tricky to find if coming up from Johnstown road; you need to make the left at the fork in the road but there were no markings.

Got excellent fall weather during our first day all throughout the night even though there was a forecast for 50% chance of rain. But it probably rained the days prior since most of our firewood was pretty wet and had a hard time keeping a big fire.

We did the loop counter-clockwise from the trailhead like the directions said. Not too challenging but definitely some good elevation gain in the first day. Hiked about 5.5 miles to get to the Mill Mountain camp site by 4:30 (a little over 3 hours). Set up camp, gathered fire wood and cooked dinner before night fell. Later in the night, decided to hike to the overlook to see if we could get a good view of the stars. Was actually very tricky because it was hard to find some of the markers especially at night. Ended up leap-frogging the entire way and managed to make it there safely. The view was superb and the sky was extremely clear but a bit windy.

Day two, we woke up a little later (6:30) because it rained overnight and into the morning. Was hoping to catch the sunrise but unfortunately that was not going to happen. Packed up and made our way over to the overlook and got a better view of the valley. Was still cloudy but rain had slowed down to a little drizzle by then. A little further down we found a rock formation to our left and decided to climb up to the top to see if we could see any views. Definitely was tricky and a bit scary because of the rain and the slippery rocks. Eventually made it down to Big Schloss after crossing the foot bridge and saw awesome views! We tried to continue on the white trail to see if it connected back to orange trail in a loop but ended up not doing so especially since it was wet and unclear. Went back on our way and made it back to the trailhead by noon.
________________________________________
Name: Will Hike: Big Schloss
Date: 2-3 June 2012 Rating: 5

Critique: We turned this into a 17-18 mile backpack by adding a side trip to White Rocks. The trail condition was generally excellent, and we didn't get lost once. We stayed at the campsite closest to the intersection of the Big Stony Creek and Tuscarora Trails, which was excellent, as advertised. The Mill Mountain Trail occasionally had rocks hidden by grass, which were a bit treacherous. In general, a great time.
________________________________________
Name: Eric Lengel Hike: Big Schloss
Date: 11/8/11 Rating: 5

Critique: Be ready for the long haul on this hike. It's particularly challenging in the fall. The leaves obscure rocks in the trail and make for hazardous walking. It's all worthwhile though, b/c the views are magnificent!
________________________________________
Name: Donna Miller Hike: Big Schloss
Date: September 30 - October 2, 2011 Rating: 5

Critique: This is one of my very favorite hikes. We usually do a 1-2 night backpack on it. Parked at Little Stony Creek Parking lot.

Walked Little Stony Creek Trail to Tuscarora Pond Run Trail, to Half Moon, to Half Moon Lookout. Camped at Halfmoon Lookout (not the greatest/flattest site, also dry, you'll need to fill up on water 1 mile before--but the views off the cliffs and up top Halfmoon Mt. are incredible).

Next day, reverse, same trails to Mill Mt. Took Mill Mt. to Big Schloss, nice campsites up top BS, if you can get them (dry, too). We kept going on Mill Mt. to the mountain ridge above Wolf Gap. Social trail goes off to left when trail goes right off/down ridge. Social trail leads to several nice tent sites. Again, dry. You'll need to walk down to Wolf Gap (steep) for water. Worth it though.

Last day, we hiked back out on Mill Mt., to Big Schloss cut-off trail, back down to FR 92, 1/2 mile to Little Stoney Creek Parking Lot, and our car.

Loop of about 20 miles total. Very, very pretty, not taxing, great views when leaves are down. Temps Sat 45 degrees, with rain and wind. Blah. Woke up to 35 degrees Sunday. All in all, in was a miserably fun trip.
________________________________________
Name: Joseph Dooley Hike: Big Schloss
Date: 10/01/2011 Rating: 3

Critique: The middle portion of this hike between the Sugar Knob Cabin and the unnamed vista was tedious, but it got better towards the end. On a cool, windy October day I hardly noticed the 1,500-foot climb up Little Stony Creek Trail. It's a gentle ascent that literally anyone can do. At various points I heard rushing water but could not see where it was coming from. It was only further on that I discovered the source of the sound. There's a spring underneath Mill Mountain! I hadn't read up that much on the hike and was pleasantly surprised.

The views were very good as it was a clear, windy day. I could see all the way to the Blue Ridge Mountains. Once you reach the bridge you see why it was built in the first place. A dangerous class 3/4 scramble would have to be attempted to reach the true summit.

The weather forecast called for a rain/snow mix on Big North Mountain on Oct. 1. Remembering how the meteorologists botched the previous weekend (calling for 2-4 inches across Maryland when in fact we received almost none), I chanced this hike and was rewarded with decent weather. I was surprised, however, at the number of people on the mountain. I encountered about 20 hikers and 2 camping parties.

The descent back down to FR 92 is the steepest portion of the hike. I was glad I was descending this section, not ascending it. Just off the trail, there are many scrambling opportunities, but watch out for thorns.

NOTE: Finding FR 92 for the first time is tricky. It's made of gravel and the only signage is a stop sign. Someone has painted "92" on the back of the stop sign in 3-inch high letters. If you cross into West Virginia, you know you've gone too far.
________________________________________
Name: Rose Hike: Big Schloss
Date: 5/21/11 - 5/25/11 Rating: 4.5

Critique: Great hike! Reading the trail notes and looking at the topo, I expected it to be harder than it was.

Thanks to the slow, wet spring we've had there was plenty of water and the wildflowers were plentiful. We saw wild geraniums, pink lady slippers, wild azaleas, and columbines. The mountain laurel was just beginning to bloom.

We had several days to spend here, so we hiked to Sandstone Spring and set up base camp for a couple of days. The area was VERY wet and we had to watch where we stepped or we'd be up to our ankles in water. Also very buggy, but that's to be expected at this time of year.

We hiked to Big Schloss on a day hike. The views are marvelous! As another reviewer noted, do NOT miss this section!

This is the 3rd hike I've done in this area (also did Pond Run/Tuscarora and Signal Knob loops) and I'm very impressed with the GWNF. I'll definitely be back for more hikes in this area.
________________________________________
Name: Kenny Lee Hike: Big Schloss
Date: 3/19/2011 Rating: 4

Critique: Very pleasant hike. The bridge work has completed and you can get to the top of Big Schloss and enjoy the great view!
________________________________________
Name: Patrick O'Steen Hike: Big Schloss Loop Trail
Date: 9/5/10 - 9/6/10 Rating: 4

Critique: The loop was very pleasant, and a good level of challenge. Camped near the overlook about 6-7 miles in and had a perfect view of the sunset and a nice spot for breakfast.

I'm not sure if it's posted anywhere online, but as of August 29th, 2010, the Big Schloss Trail is closed due to bridge repair for the next 2 months approximately. A bummer to not be able to get to the best viewpoint, but the hike sans Big Schloss was still really nice.

Also worth noting is that as of a couple days ago the Sandstone Spring was completely dried up. Made for some fun water conservation practice!
________________________________________
Name: Keith Lehman Hike: Big Schloss
Date: 5/17 - 5/18/09 Rating: 5

Critique: What a completely wonderful hike! Had a little trouble finding my way in as FR92 isn't marked from the intersection with 675. You'll know you made the right (left) turn if you come to a relatively fresh logging clearcut on the left as you go up the road.

The first section along Little Stony Creek trail was rather muddy from the weeks of rain prior to my trip. I expect it would be fine any other time and the mud wasn't deep and could be avoided. There are no stream crossings so the high water wasn't a problem.

The trail was beautiful with the creek views at first giving way to blooming laurel as I ascended to the Sugar Knob cabin.

After the haul up to the ridge to Mill Mountain Trail the going was pretty easy. The campsites really aren't that great until you get to the one's near Sandstone Spring. They all looked really nice. However, I wanted to camp on the ridge so I filled up on water at the spring (necessary as there was no more water even with the heavy rains).

The campsite at the overlook about a mile beyond the spring was outstanding. The nearby cliff overlook gave me a great view of the valley and the sunset. The winds were high but the campsite is relatively protected so it wasn't bad at all. You could probably squeeze two tents in at this site.

The views from Big Schloss are the best in the area. What a marvelous place to relax for a nice lunch. There is a small campsite at the peak but it may not be all that private as I met a few day hikers even on Monday.

The hike back to the car from the peak was a little bit brutal as it's fairly steep and the last half mile or so is in the sun while walking on the road.

This is now one of the few hikes that I will definitely do again and will use to hook my friends on backpacking. It's probably the best hike within easy reach of DC.
________________________________________
Name: Faye Hike: Big Schloss
Date: 7/12 - 7/13 2008 Rating: 4.5

Critique: Overall a very good hike. We arrived around 11am. Steady incline. Rock hopping at times. 1st stream very low but still able to get water. Very buggie at times. We came across a very nice grassy campsite.. thinking about staying there but were pretty far away from water. We decided to go on and stay at one of the three campsites by the 2nd stream. It was a great place to soak your feet after a long hike. Came across 5 other hikers passing through. We arrived at the campsite around 4pm. Some bad flies there. Mt. drainage was low, caused some stagnant water around. Nice and open. There was a calming breeze at night very peaceful.

We did come across some bear droppings but didn't run into any bears or any wildlife for that matter.

Nice and easy hike once initial incline out of the way. Beautiful views from top of the mountain... be sure to go out its worth it.

Would do it again.
________________________________________
Name: Peter Hike: Big Schloss
Date: 07/12/2008 Rating: 5

Critique: I got to the parking lot around 3pm Friday afternoon. There were only two cars in the lot. I was able to fast pack it to the first scenic view at about 7 miles, about a mile past the last water stop. There is enough space for a couple campsites and the view was magnificent. The bugs were terrible, and I didn't have bug spray, so I built a small fire in the rock fire ring. This really helped.

The next morning I took the trek up to Big Schloss, a little over 2 hike (out and back). The view was worth it.

This rates as one of the most beautiful hikes I've been on in the mid-Atlantic area. I'm going to do this hike next spring when the Rhododendrons are blooming.

Beware: I did see signs of Black Bear (large scat and diggings) while hiking the Mill Mountain Trail.
________________________________________
Name: Jenna and Ben Hike: Big Schloss
Date: 06/07-08/2008 Rating: 4.5

Critique: This was a great hike! We got a late start, started the hike around 3 on Saturday, but found a great place to camp overnight right before the first cabin. There was a perfect stream and we didn't see another sole until the next day, after a few hours of hiking. The laurel was perfect and the trail was varied, which kept things interesting.

This time of year was hot, but the forest, especially during the first 3/4 of the hike kept us cool.

There is plenty of water. Remember bug spray. Don't miss the Big Schloss turnoff. It is definitely worth it.
________________________________________
Name: Karen Hike: Big Schloss
Date: 1/12-13 2008 Rating: 4

Critique: Did this hike over the weekend and camped. Great hike, camp site we found was perfect, note that while it looks like there is a lot of dry wood lying around, its not after 2 days of rain!!

Along the orange trail heading towards Big Schloss Cutoff there is a trail off to the right(west) marked with white paint, this is very confusing if you are reading the map and think you have passed the cut-off trail. No where on the map do you see another white trail so needless to say we back tracked and then went back and decided it must be some error.

I would have to agree with Nicholas, the descent on Big Schloss is quite steep, you drop 1,000 feet in 1.71 miles and if we had been to this website BEFORE heading out we would have hiked up Big Schloss to the camp sites!!

No worries though, it was a great hike, great weekend and now we know for next time.
MRHyker Note: The white trail is only about 30 feet long. It leads to a vista that can be seen from the main trail. I had it marked with a camera. I added a white trail segment to it on the large map.
________________________________________
Name: Nicholas Hike: Big Schloss
Date: 1/5-6/2008 Rating: 4.5

Critique: The description of the hike is perfect, except as to what the most difficult part was, in my opinion. The gain in the first four miles was significant, but not unreasonable. The difficult part of the hike was the descent from Big Schloss back to FDR 92. Losing a bit over 1000 feet in two miles, it felt like we were rolling downhill at times.

Regarding water, there was plenty of it in a number of places. To update the Sandstone Spring report from November, it seems to have recovered - we had no water worries while camping there for the night.

The camping near Sandstone Spring was a little difficult to find - having them marked on the map was necessary to know where to look, as they were not right near the trail.

For those with sore feet who might consider skipping the trip up Big Schloss - DON'T. The views were spectacular. It was a cool morning, a bit cloudy, and you could see for miles in every direction.

Thanks for the website - I just found it, and this was my first hike I found here, but it will definitely not be the last.
________________________________________
Name: Peter Fleszar Hike: Big Schloss
Date: 11/18/07 Rating: 4

Critique: Water report from November of dry 2007. Sandstone Spring was not running, just a fist-size pool of water that some unthoughtful person had dumped orange peelings into. Spring by the PATC cabin was dry but stagnant pool 100 yd. downstream was good enough for the cabin weekenders.

For those interested, Mill Mountain Trail and the portion of Tuscarora Trail north of the junction on this loop are considered now also part of Great Eastern Trail, as of today on the GET's web site http://www.greateasterntrail.org a photo of Big Schloss is on the opening page.
________________________________________
Name: Gary Hike: Big Schloss
Date: Various Rating: 5

Critique: I have hiked this circuit several times in the past, both as part of a weekend trip and as a day hike. It is an awesome day hike in the spring or fall. But if you are going in the winter, BEWARE! I spent a VERY cold night at the campsite by the small cave on the left of the Big Schloss connector trail with my brother. The winds were amazing. Big Schloss can be a very cold place in the winter, so pack accordingly. I also highly recommend you try it. Sandstone spring is a great spot to camp, stop for lunch and a quick foot soaking, or just a quick water refill while trying to reach Big Schloss before sunset. Overall this is a great hike, and of course you would have to travel a lot of miles to find a better view than what's had on top of Big Schloss.
________________________________________
Name: Charles Caldwell Hike: Big Schloss
Date: 11/4 - 11/5 Rating: 4.5

Critique: Did this as described as a one night backpack, and had a fantastic time. The initial climb is enough to make you sweat and work, but won't discourage most hikers.

The campsites at Sandstone Spring are fantastic. Plenty of firewood and fire rings to keep warm. We really enjoyed the second day and the hike to Big Schloss. I would recommend this as a 2 day outing if you have the time to spare. You really get to enjoy the scenery more. Thanks for the great hike!
________________________________________