Description: This is a 8.7 mile strenuous circuit hike with close to a dozen stream crossings of which only a couple may be technically challenging. The hike can be extended to about 12.5 miles by adding a 2 mile out and back trip to Halfmoon Lookout.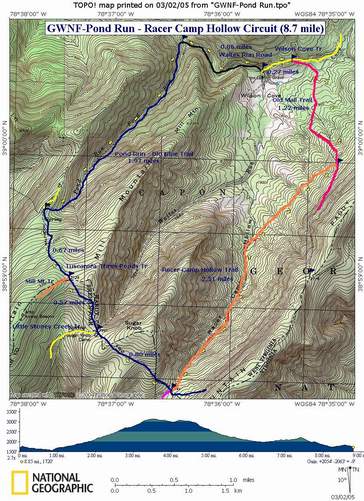 References: PATC's Great North Mountain Map F, 2001 edition; PATC's Circuit Hikes in VA, WV, MD and PA, 2000 edition
Waite's Run at the beginning of the hike.


Trail Notes (Copy and paste into Word or Wordpad for printable form): From the parking area walk back down Waite's Run Rd., crossing the single lane bridge. Immediately turn left onto blue-blazed Pond Run/Tuscarora Tr. Proceed up and over a steep hill, descending to Pond Run. Climb steeply for about 2 miles crossing Pond Run several times. At the top you'll find a small pond to your right along with the intersections of Halfmoon Tr. (right/yellow-blazed) and Tuscarora Tr. (left/blue-blazed). If you want to lengthen your outing and get some great views turn right onto Halfmoon trail and see the map for Bucktail Tr.-Halfmoon Lookout. To complete this circuit turn left onto the Tuscarora Tr. Pass the old trail which is posted "Closed for re-seeding" on your right. Watch for the intersection with orange-blazed Mill Mt. Tr. straight ahead as you come up a hill. (The "Closed for re-seeding" trail will be to your right behind a bearm. Turn left here to stay on the Blue-blazed Tuscarora Tr., a forest road at this point. Proceed downhill a short distance past closed purple-blazed Peer Tr. on your left and yellow-blazed Stoney Creek Trail on your right. (For backpackers, there is a great campsite just up Mill Mt. Tr. on the left side of the trail and another good one along the main trail just before Stoney Creek Tr. on the right. Sugar Knob Cabin, surrounded by other tent sites and a dependable spring is a short distance down Stony Creek Tr.) After this intersection ascend and then descend to the intersection with purple-blazed Little Sluice Tr. on your right and Racer Camp Hollow Tr. on your left. (Another extension of the hike can be made by going straight on the Tuscarora to White Rocks for another great view. See the White Rocks Map for details.) Turn left onto Racer Camp Hollow Tr. Descend through the cove, crossing the stream a few times before climbing up and out onto a forest road. Continue on keeping an eye out for pink-blazed Old Mail Tr. coming in from your right. Immediately after this intersection turn left into a wildlife clearing. Walk to the back of the clearing to pick up the continuation of the Old Mail Tr. Follow it downhill through a pleasant mix of decidious and pine trees. Cross Cove Run, staying on the Old Mail Trail which may be wet in spots. The Old Mail Tr. ends at the intersection of Wilson's Cove Tr., a yellow-blazed forest road. Turn left and follow it back to the cars.