Pennsylvania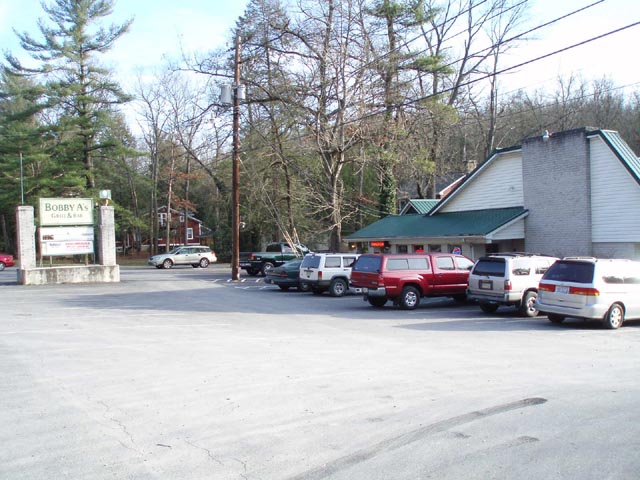 Bobby A's Bar and Grill
6880 Chambersburg Road (US30)
Fayetteville, PA
717-352-2252
Serves Michaux SF including Caledomia SP - Quarry Gap Circuit, AT-Sunset Rocks Circuit, Pole Steeple Circuit, King's Gap Environmental Center Circuit and Rocky Knob-Quarry Gap Backpack.
Comments: It's kind of hard to miss this place. Look for the line of Harleys out front. Large dining room and a bar in the back. Basic but good fare and relatively inexpensive. A cup of their Chili after a hike on a brisk winter day really hits the spot.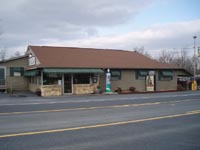 The New Oak Forest Restaurant
6097 Lincoln Way
St. Thomas, PA 17252
717-369-4340
Serves Cowans Gap SP, Tuscarora-Standing Stone Loop and the Big Mountain-Pine Tree Vista Loop.
Simple home cooking. Inexpensive. Good service and friendly wait staff. Only short coming as of this posting: they only serve coconut custard pie for dessert.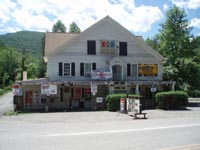 Waterville Hotel
Route 44 North, Waterville, PA 17776
570-753-8231
Serves the West Rim Tr, including Bee Tree Ski Trail - West Rim Loop, the central portion of the Mid-State Tr, Black Forest Trail-North, Black Forest Trail-South, Golden Eagle Tr, Mid State-Little Pine SP circuit and Susquehannock Tr.
Comments: This used to be a very eclectic place to eat with a great after hike menu and nice service. It is now under new management. Sparky, a fellow hiker has this to say about it: "I just got back from three days on the Black Forest Trail. It was great, but on the way out we stopped at the Waterville Inn (Hotel). The ownership has changed, as has the decor and menu. The decor is boring, the food is boring and the waitress was surly. It looks like there's a place right in Slate Run village, on the rail trail that must be picking up their business because the lot was filled with cars, trucks, and both kinds of bikes. If you get out that way, check it out. I'm sorry we didn't!" If any other patrons visit it with a different critique let me know.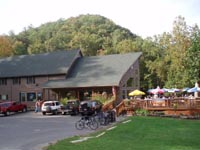 Hotel Manor
392 Slate Run Rd
Slate Run, PA 17769
570-753-8414
Comments: If you just hiked the West Rim Tr, Golden Eagle Tr, Mid-State-Little Pine Loop, Black Forest Trail-North, Black Forest Trail -South or both you need to stop here to refuel. The newly rebuilt Hotel Manor serves everything from the simplest of sandwiches, pizzas to four course dinners. I had the Barbequed Pork Shank - so tender the meat fell off of the bone!!! The wait staff is very friendly. Eat out on the deck overlooking Pine Creek.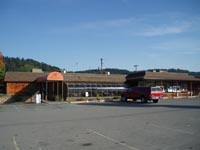 Heller's Harvest Moon Plaza
7458 U.S. 220
Linden, PA 17744
570-398-1362
If you ever need a gas station, quick mart, walk up ice cream stand and sit down restaurant then this is your one stop shopping place. Meals are simple, inexpensive and good. Clean! Less than one hour east of the Golden Eagle Tr, Mid-State-Little Pine Loop, Black Forest Trail-North and Black Forest Trail -South.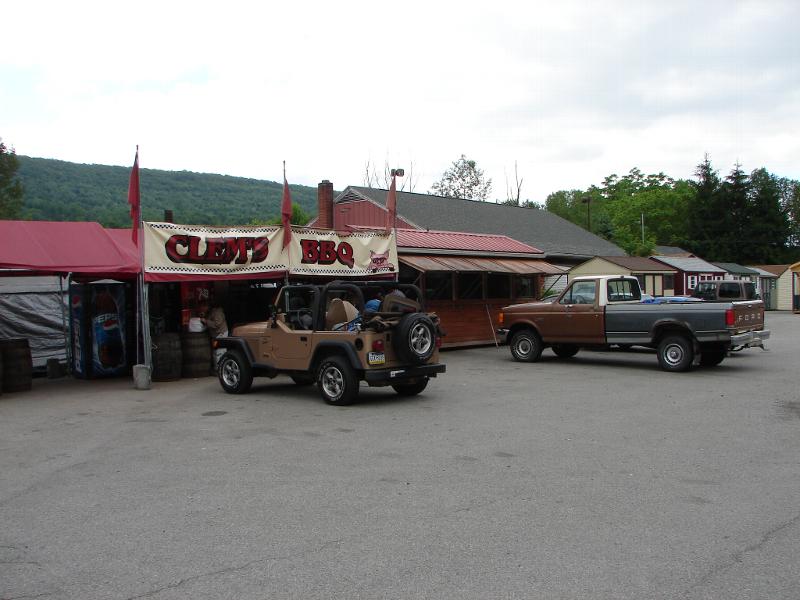 Clem's BBQ
RT 322/220
Port Matilda, PA 16870
814-360-1140
Serves Allegheny Front Tr-East and Allegheny Front Tr - West trips.
Comments: All outdoors. Just a car port and trailer is all that it takes to make the best BBQ chicken and pork in PA. No seats. Limited menu. CLOSED ON MONDAYS!! Photo by Pat Roberts.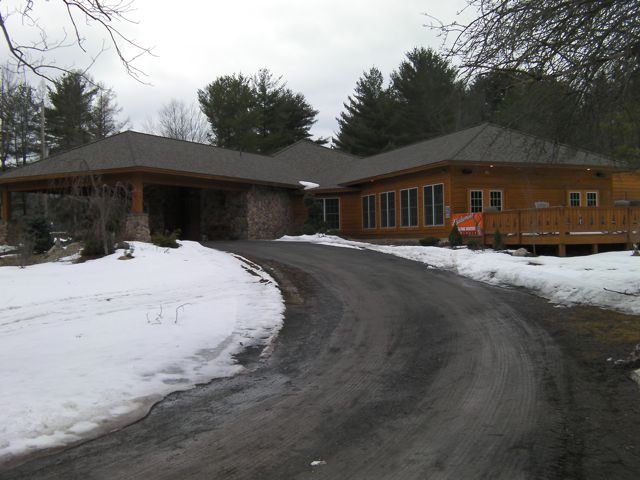 The Antlers Inn - (Photo by Kyle Blakeslee)
U.S. Rt6
Gaines, PA
Map (Approximate)
Serves The West Rim Tr, Pine Creek Rail Trail, West Rim Trail and Bee Tree Ski Tr-West Rim Loop.
Comments: I've dined at the Antlers 2 or 3 times in 2000 - 2001 and always came away satisfied. I and many other hikers were dismayed when it was destroyed by fire in May 2006. A short while later one of the owners passed on from a serious lung disease. I'll let you read about the history,
the people and the tragedies in this Star Gazette article by George Osgood. I am glad to hear that Sandi has rebuilt the place. The main things I remember about the old Antlers are the salad and soup bar, the tender, juicy steaks, great desserts, the excellent, friendly service and the trout pond out back. I always wondered if they were on the menu.
Needless to say the historical ambiance of the old Antlers can't be replaced but I'm sure that Sandi and her kids will bring back the quality and care we so sorely miss.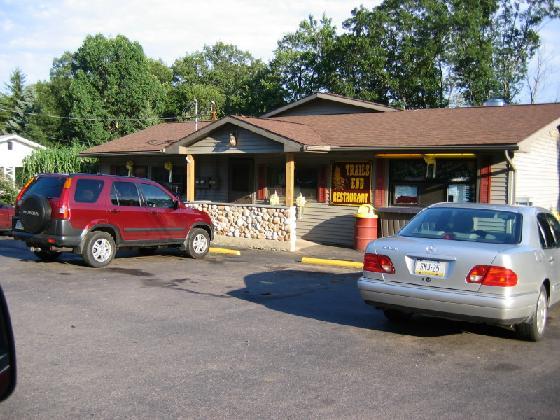 The Trail's End
817 RT118
Sweet Valley, PA
570-477-2556
Serves Rickett's Glen SP and Bulldozer Road-Falls Tr Loop.
Comments: Good basic food. Great breakfast! Clean with a friendly atmosphere. Mere minutes from Rickett's Glenn Park.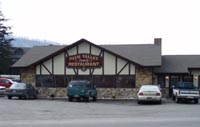 The Path Valley Family Restaurant
PA route 641 and PA route 75
Spring Run, PA
717-349-2900
Close to the Tuscarora State Forest, Big Spring SP, Fowler's Hollow SP, Tuscarora Tr, Iron Horse Tr, Tunnel Trail , Hemlock Natural Area - Bowman Hollow Loop and the Fowler Hollow SP Loop
Comments: Open for all three meals. Very clean! Good, inexpensive, basic food with some down home dishes not always found in most establishments.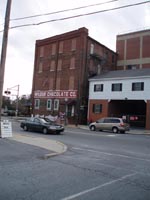 Wilbur's Chocolate Company
48 North Broad Street
Lititz, PA 17543
717-626-3249
Just minutes south of Middle Creek Wild Life Management Area.
OK, so this isn't a restaurant but what could be better than a chocolate fix after a nice 8 mile hike over the hills of the Keystone state? Open Monday through Saturday. I believe the store closes at 5:00.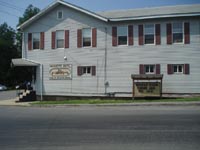 Benezette Hotel
95 Winslow Hill Road
Bennezette, PA 15821
814-787-4240
Minutes from most Quehanna Wild Area trailheads. Open for all three meals. Lunch and dinner menu features the Bugle Burger (char broiled 1/2lb ground chuck, topped w/ grilled mushrooms & onions, provolone cheese &mayo, served on a lightly toasted bun) and Elk Burger (made with real elk), very tasty, moist but not greasy.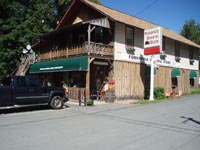 Forksville General Store
Bridge Street
Forksville, pa, 18616
570-924-4982
Serves the Loyalsock/Link Loop, World's End Circumnavigation and Ketchum Run/Scar Run Loop.
Open 7 days/week and serving all 2 meals. Features a small store, complete deli and restaurant. The owners are Philly transplants and know all about making good food. Floor show on Saturday night with reservations .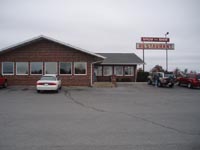 The Snow Shoe Exit 22 Restaurant
516 E Sycamore Rd
Snow Shoe, PA 16874
(814) 387-4288
Serves the Chuck Keiper East and West Circuits as well as other Sproul State Forest hikes. Just off of I-81, behind the Exxon station on Rt 144. Very large dinning areas. Truckers stop here so it must be good. Hours are 7 to 11, 7 days/week. Breakfast (my favorite meal after a trip) served throughout the day.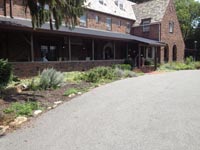 Our Coal Miners Cafe
1644 Pitt St Jennerstown, PA 15547
(814) 629-5518
Serves Laurel Highlands Trail-North backpack and close by state parks. It looks very upscale inside and out but is full of down home hospitality and prices. If they're not busy they'll make you breakfast at mid-day. Home of the famous "Miners Meal Deal": (EAT IT ALL = EAT IT FREE) - 2 LB BURGER, CURLY FRIES AND COLE SLAW AND...OUR FAMOUS GOB CAKE SUNDAE.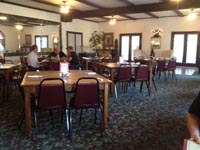 ________________________________________
Virginia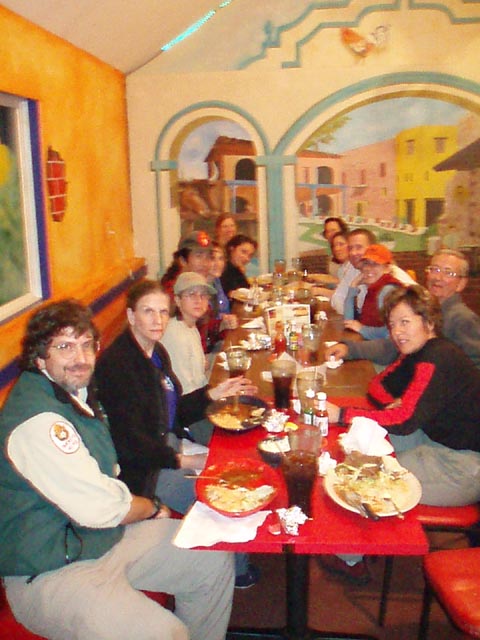 Jalisco Mexican Restaurant
1303 North Royal Ave.
Front Royal, VA 22630-3623
540-635-7348
Serves SNP North (Jenkins Gap-Hickerson Hollow Loop, AT-Bluff Tr Loop) and North Massanutten Mt (Signal Knob-Meneka Peak Loop, Mud Hole Gap Loop, Shawl Gap-Sherman Gap Loop).
Comments: This place always packs them in but they have plenty of tables. Large portions at reasonable prices. The menu is quite extensive. Ever have Cole Slaw and Corn Chips? Don't knock it ...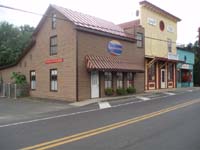 The Thornton River Grille
3710 Sperryville Pike
Sperryville, VA 22740
540-987-8790
Serves Shenandoah National Park: There are too many hikes to list here. See hikes in the southern part of the North District and the northern part of the Central District.
Comments: They serve a great brunch from 10:00 until 3:00 on Sundays. I highly recommend the French Toast. The Breakfast Burrito looks killer but bring your appetite or a friend for that one. Parking and Entrance in the rear. We recently had dinner there. The steaks were excellent. La pièce de résistance though has to be the Bread Pudding. One serving is enough for two people.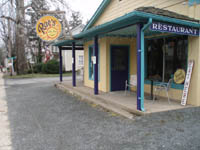 Rae's
20 Main Street
Sperryville, VA 22740
540-987-3335
Serves Shenandoah National Park: There are too many hikes to list here. See hikes in the southern part of the North District and the northern part of the Central District.
Comments: Sandwiches and burgers with a sort of "Cheese Burger in Paradise" atmosphere. Check out their dinner specials from around the world.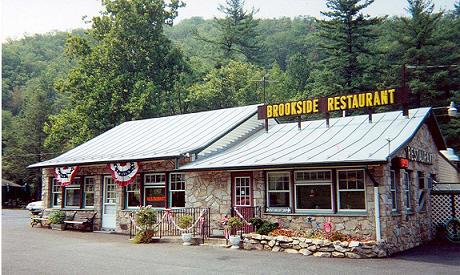 The Brookside Restaurant
2978 US Highway 211 East
Serves Shenandoah National Park: There are too many hikes to list here. See hikes in the southern part of the North District and the northern part of the Central District and Massanutten Mt/GWNF: Kennedy Peak, Duncan Knob Loop, Wil Kohlmbrenner Memorial Circuit.
Comments: Simple home cooked fair. Menu items and buffet (Breakfast as well as lunch and dinner on the weekends). Limited wine and beer selection. Check out their gift shop and cabins. The place closes between lunch and dinner so check the times on the website.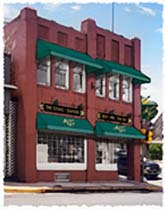 Artisans' Grill
2 East Main Street,
Luray, Virginia 22835
540-743-7030
Serves Shenandoah National Park: There are too many hikes to list here. See hikes in the southern part of the North District and the northern part of the Central District and Massanutten Mt/GWNF: Kennedy Peak, Duncan Knob Loop, Wil Kohlmbrenner Memorial Circuit.
Comments: I had almost totally forgotten about this place tucked away on Business U.S. Rt211. It features over-sized sandwiches and burgers. Great soups as well. This will cure any appetite! They have an art gallery upstairs (hence the name).
The Thunderbird Diner
Rt. 33 East and Island Ford Rd, McGaheysville, VA 22840
540.289.5094
Serves the Central and South Districts of Shenandoah National Park: Brown Mountain - Big Run Loop, Doyles River Loop, Big Run Loop Trail Circuit and Pocosin-South River Falls Loop.
Comments: The Thunderbird Diner offers the nostalgia of the fifties as well as the prices. Breakfast served 24/7. Friendly wait staff. I strongly recommend the Sausage Gravy and Biscuits. HEEEEEY ... where's the Fonz?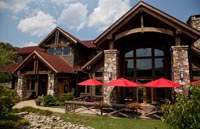 Devil's Backbone Brewing Company
200 Mosby Run
Roseland, VA 22967
434-361-1001
Serves the AT/Mau-Har , St. Mary's Wilderness, White Rock Gap-Torry Ridge, Torry Ridge-Mills Creek hikes and more.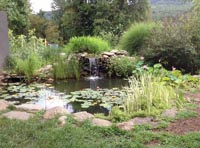 Comments: This place is very busy but it is also huge with both indoor and outdoor dining. We found eating next to the pond with a mountain backdrop particularly relaxing. They have a very extensive menu with both sandwiches and entrees ..... oh, and beer as well. Their house Weiss beer is very fruity and creamy - a very nice after hike reward.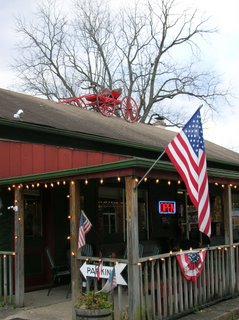 T-Bone Tooter
3980 Churchville Ave (U.S. RT250)
Churchville, VA 24421
540-337-6500
Serves The Wild Oak National Recreation Tr, Trimble Mt Loop, White Oak National Recreation Tr-North River Gorge Loop, , Todd Lake, Ramsey's Draft.
Comments: We must have passed this place 10 times before we finally decided to stop in for a quick breakfast. This is a pretty descent place with home cooked meals. You'll find dishes not usually found on most menus - things that Momma always whipped up for Dad. There is a canteen area with tables and booths inside the main entrance and a nicely appointed dining room with a fire place to the right. They have a pretty peculiar way of identifying the Ladies' and men's restrooms. We'll let you find out how they do it for yourself. They have a special project in support of our troops serving in the Gulf. Check it out on their website.
Paisano's -Pasta, Pizza and More
Walmart Shopping Center
483 W. Reservoir Road Woodstock, VA 22664
Phone: 540-459-8756
Email: giuwoodstock@netscape.net
Comments: Lisa Hardy says "The cheese steaks and pizza are excellent!" It's behind the Cracker Barrel. Great place to stop after hiking Big Schloss, Laurel Run- Stack Rocks Circuit, Laurel Run - Falls Ridge Loop and the Falls Ridge - North Mt Loop. Photo by Lisa Hardy.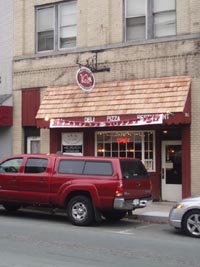 Vic's Italian/American Restaurant
432 E, Ridgeway St.
Clifton Forge, VA 24422
540-862-1620
Comments: Serves Douthat State Park: Beards Mountain Figure 8 Hike and Middle Mountain Loop. Complete menu for weekday dinners and all three meals on Saturday. Closed on Sundays. Specializes in breakfast and lunch buffets during the week. The breakfast buffet has a limited number of items but they are all quite good.
________________________________________
West Virginia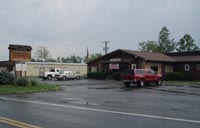 Kac-Ka-Pon Restaurant
395 E Main St (WV55)
Wardensville, WV 26851
340-873-3232
Serves Long Mountain/Tibbet Knob Shuttle, Bucktail Trail-Halfmoon Lookout Loop, Long Mountain Loop w/Bushwhack, Trout Pond Loop, Long Mountain-Trout Pond Loop
Comments: This place has been here for years. It has been operated by the same folks the entire time. Down home cooking and inexpensive. Any place that serves up Fried Liver and Onions gets my vote! Oh, this place has its own bakery so you know the desserts are fresh.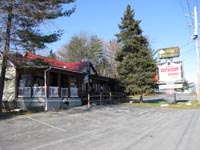 John's My Pappy's Place
U.S.340S (south of Charles Town)
Rippon, WV 25441
304-725-4348
Serves the northern end of Massanutten Mt (Signal Knob Loop, Mud Hole Gap Loop, Shawl Gap-Sherman Gap Loop) and Harpers Ferry Hikes (Weverton to Maryland Heights Out and Back.
Comments: My Pappy's place is a little out of the way for the hikes listed here but it's an easy drive on U.S.340 and well worth the extra few minutes to get there. Everything from the freshly baked sour dough bread, soups, stews and endless ice tea is top drawer. I highly recommend the cream of crab soup and the prime rib. (So tender you don't need a knife.) They serve no alcohol but once you begin dining you won't miss it. CLOSED ON SUNDAYS EXCEPT WHEN VALENTINE'S DAY FALLS ON IT. Photo by Lisa Hardy.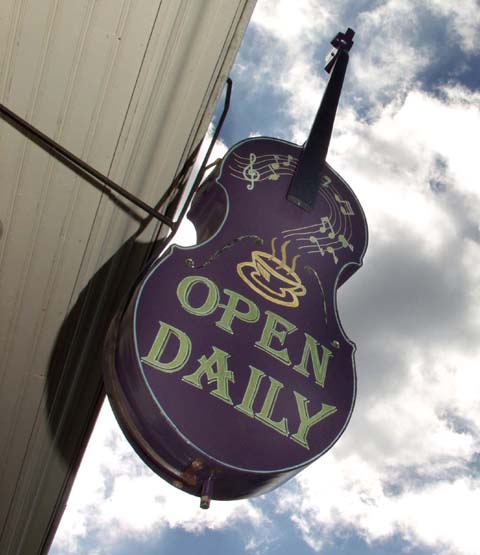 The Purple Fiddle
21 East Ave
Thomas 26292
304-463-4040
Serves Blackwater Falls SP and Canaan Mt: Blackwater Falls-Canaan Mt loop, Canaan Mt Grand Circuit, Plantation Tr-CLR 13 Loop, Canaan Mt BP, Canaan Mt BP-2.
Comments: I can only think of two words to describe this place: "Eclectic" and "Wonderful"! It's eclectic for several reasons. First, I don't think there are any two "things" in this place that are identical. This includes everything from the furniture you sit on to the items of curiosity sitting on the shelves, hanging on the walls or suspended from the ceiling. (My personal favorite is the antique pedal tractor!). Secondly, it is a coffee shop, an ice cream parlor, a pub and a deli all at the same time .... and then it is none of these. What an incredibly intricate affair. You'll leave with all of your senses tingling as your mind tries to figure out what it has just experienced!
Their sandwiches and wraps are second to none. My favorite is the Ragin' Rapids Roast Beef Sandwich (see the menu on the website for ingredients.). And as for the micro brews, I've not had the same one twice. The selection seems endless. As if maxing out your olfactory and ocular senses and taste buds isn't enough, "The Fiddle" features live Appalachian style music on weekend evenings and occasionally during the week.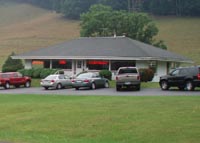 The 4-U Motel And Restaurant (Closed - For Sale!)
Rt 28/33
Seneca Rocks, WV
304-567-2111
Map ( about 2 miles south of the star on U.S. Route 33.)
Serves Spruce Knob/Seneca Creek/Seneca Rocks area: Lumberjack Tr-Seneca Creek Loop, Allegheny Mt Tr-Seneca Creek Loop, Spruce Knob-Seneca Creek Backpack, Seneca Rocks Visitor Center and Seneca Shadows Campground.
Comments: We've been eating breakfast and dinner here since 2000. We've never been disappointed. This is inexpensive, down home, basic fair. We highly recommend the Hot Roast Beef Sandwich, mashed potatoes and gravy. We've been told that the trout is pretty good as well. Make sure you end your meal with some of their homemade pie (alamode of course!). My personal favorite is Blueberry. This is another one of those places frequented by motorcycle touring clubs so you know it must be good. Open 7 days/week. Closed during the winter months!
The Gateway Restaurant
WV Rt 28/U.S. 33 and Briery Gap Rd.
Riverton, WV
304-567-2810
Serves Spruce Knob/Seneca Creek/Seneca Rocks area: Lumberjack Tr-Seneca Creek Loop, Allegheny Mt Tr-Seneca Creek Loop, Spruce Knob-Seneca Creek Backpack, Seneca Rocks Visitor Center and Seneca Shadows Campground.
Comments: Really good home cooking minutes away from the tallest point in WV. Meticulously clean. Several specials every day. One is sure to meet your fancy. (They have fresh Calves Liver!). I've seen the fresh-baked Apple Dumplings but I was just too full to try one. Maybe the next time! Open for all 3 meals. CLOSED ON SUNDAYS!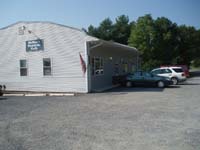 Mallow's Roadside Cafe
WV Rt 55
Cabins, WV
304-257-5591
Map (Approximate endpoint)
Close to North Fork Mountain Shuttle, Rohrbaugh Plains - Dolly Sods Shuttle, Dolly Sods North Circuit Hike, Dolly Sods North Backpack, Dolly Sods Circumnavigation, Dolly Sods Circumnavigation - mod 1, South Prong Trail, Roaring Plains Circuit, Roaring Plains Base Camp and Day Hike and more.
Comments. This is a relatively new place built by Joe and Kim Mallow. Good vittles at a reasonable price. We ate breakfast there (served 24/7) after a trip to the Roaring Plains. We strongly recommend the Cabins Omelet. Diane's Duo (Chicken Fried Steak and Gravy with eggs any style) was a hit with me. Try the Apple Dumpling Alamode. It will top off any meal. 4.5 stars out of 5.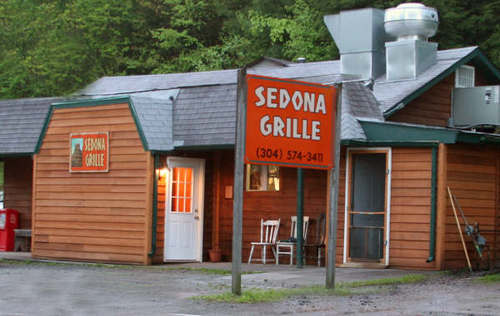 Sedona Grille RT16
Fayetteville, WV 25840-1226
304-574-3411
Serves the New River Gorge area including Endless Wall Shuttle and Fayetteville/Kaymoor Loop hikes.
Comments: Fine Dining. Dinner only. Don't let the outside fool you ... nor the name either. To me Sedona harkens up thoughts of South-western food. There is indeed some of that, starting with the homemade salsa, but Brian and Virginia go way beyond that with a pleasant mixture of American and totally nouvelle cuisines as well as several very unique pasta dishes. A true testament to their devotion to the art of cooking is the extra emphasis they put on what others might consider to be mere side dishes. No plain ol' potatoes and vegetables served up here! The menu changes on a daily basis so you might want to check their website before going. We were more than satisfied with everything we ate. One thing you must try is their Mexican Ranch salad dressing (made with their homemade salsa). It's a true taste sensation. CLOSED ON WEDNESDAYS!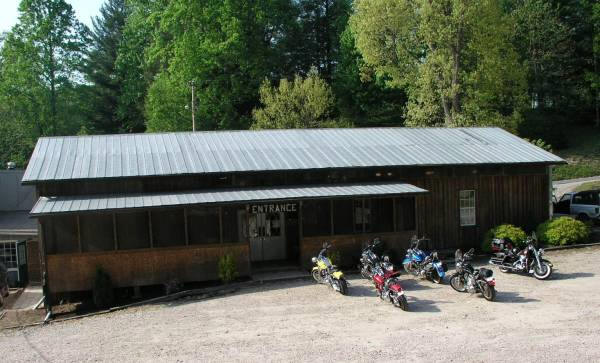 Dirty Ernie's BBQ Pit
Fayetteville, WV
310 Keller Avenue
Fayetteville, WV 25840
304-574-4822
Serves the New River Gorge area including Endless Wall Shuttle and Fayetteville/Kaymoor Loop hikes.
Comments: Dinner only. Whether you're coming off of a thrilling rafting or kayaking run down the New River, taking the bridge walk or completing one of the above hikes a stop at Dirty Ernie's may be in order. Again, check out the hogs parked out front. That says a lot for the place. Although they also serve more health-conscious dishes here the obvious emphasis is on grease and Ernie's unique BBQ sauce. You can dine inside or out. Full line of wine and beer. Ernie's caters to the rafting industry and as such closes during the winter months. Check their Facebook page or call ahead to make sure they are open.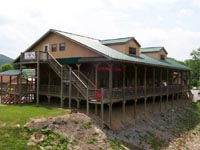 The River Place
842 1ST St
Marlinton 24954
304-799-7233
Serves Cranberry Wilderness and Backcountry and Tea Creek areas: Tea Creek-Tea Creek Mt Loop, Tea Creek Backpack, Tea Creek-Turkey Ridge Loop, Cranberry Wilderness Backpack, Big Beechy-Middle Fork Loop, Little Fork-Middle Fork Loop, Cranberry Backcountry BP, Pocahontas-Fork Mountain BP.
Comments: A nice down home place right on the Greenbrier River. They have a veranda along the river that can be used during the warmer months. I believe they still have buffets on Sundays. My favorite has always been the Hot Turkey Sandwich, Mashed Potatoes and Gravy. Be ready for a nap afterwards. Try to save some room for the Blueberry Cobbler! Photo by Mike Martin.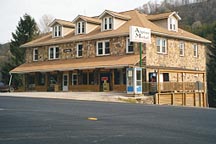 Alpine Lodge
Alpena, WV
304-636-1470
Serves Otter Creek Wilderness: Otter Creek BP, Otter Creek-SW, Otter Creek-NW, Otter Creek-SE.
Comments: Lots of knotty pine, bear skins, logging and farming artifacts and old photos of yester-year creates a sort of wilderness ambiance. Good down home cooking and service. Even better prices. We had breakfast and lunch there and were satisfied both times. CLOSED ON MONDAYS AND TUESDAYS.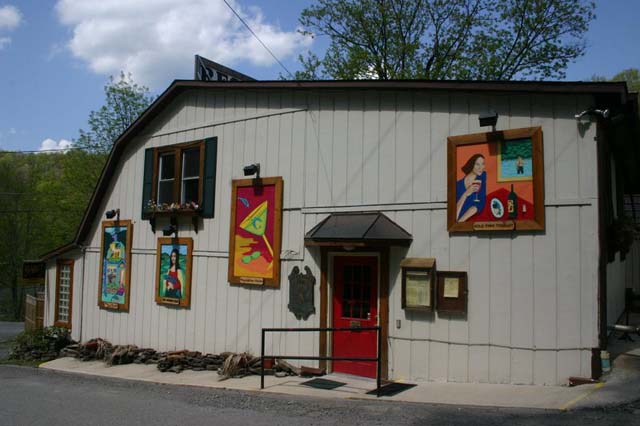 Cheat River Inn
Old U.S. RT33, WV 26241
304-636-6265
Serves Otter Creek Wilderness: Otter Creek BP, Otter Creek-SW, Otter Creek-NW, Otter Creek-SE.
Comments: Fine dining. Dinner only. Eat indoors or on the two tiered veranda overlooking the river. Very unique dishes, from the appetizers to the main course and then to the desserts. Everything looks good but my favorites are the oat or nutty coated Rainbow Trout. This is the only restaurant we've ever eaten at where a recommended wine is listed with the entree on the menu. And they are usually right. You might consider making reservations for this one. OH! and on a chilly evening top it all off with their specialty .. Irish coffee. CLOSED ON MONDAYS AND TUESDAYS.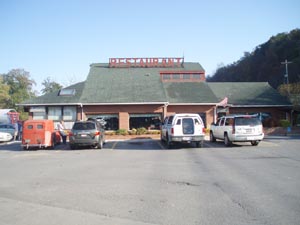 Little Sandy Truck Stop
I-68 at State Route 26
Bruceton Mills, WV 26525
304-379-7300
Serves Coopers Rock Loop and Quebec Run Loop (PA).
I've never eaten at a truck stop that I didn't like after a hike. You can throw a rock from the parking lot and hit a vehicle on I-68, so it won't be out of your way.
______________________________________