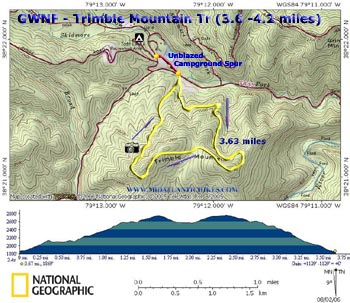 Zipped National Geographic. TOPO! GPS and Universal GPX Files
Trail Notes: If you are starting from the campground follow the campground road back to its entrance, cross the Todd Lake access road and follow the signed Todd lake Trail down to a trail junction. Turn right at the junction and walk out to a signpost for the Trimble Mt Tr on the breast of the dam. Turn right and descend a short distance off of the dam but quickly turn left onto a wide, grassy road in front of the dam. Follow it out to the above dumping station.
From the dumping station cross FR95 and pass the Trimble Mt Tr sign on a footpath. Cross a short footbridge. Soon arrive at a clearing where the trail splits. Going in either direction will work but you will find the grade to the left a bit easier going. In about 2.5 miles from the dumping station arrive at a nice view of the surrounding mountains.
Descend, steeply at times, over the next 1.5 miles to the clearing you passed through earlier. Turn left and retrace your steps back to the car/campground.