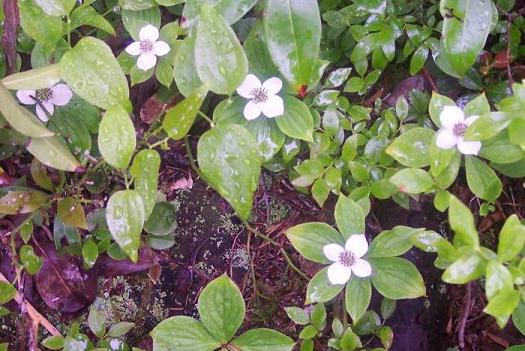 Bunch Berries (Cornus canadensis): Grows in the shade of heath, azaleas, etc. Short, compact plant with white flowers and green leaves give way to red berries and bright crimson foliage in the fall. Location: Roaring Plains, eastern portion of the South Prong Trail, MNF, WV.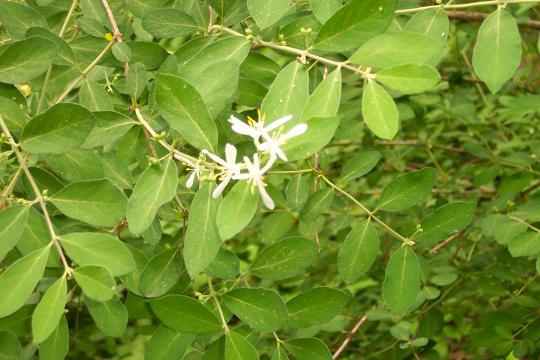 American Honeysuckle (Sambucus Canadensis): Unlike Japanese Honeysuckle, this is not a vine but rather a bush. This one is at the Long Pond Trailhead on Fifteen Mile Creek Rd, GRSF, MD.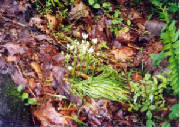 Star of Bethlehem (Ornithogalum umbellatum): An escaped domestic from the Lily family. Beautiful but considered invasive. Location: Along Raven Rock Falls off of Gunpowder River in April.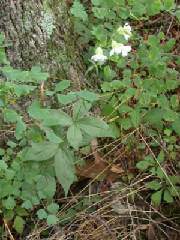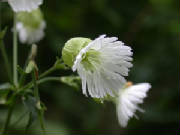 Starry Campion (Silene stellata
): 24-30 inch erect plant. Flower has 4 highly fringed petals, giving the appearance of many petals. Note the 4 whorled lanceolete leaf pattern. Location: Piney Ridge Trail, SNP, VA. Photo by Ken Clark.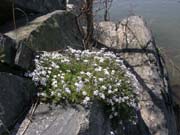 Moss Phlox (Phlox subulata): Very similar to garden phlox. found in different colors. Location: Great Falls NP, MD. Photo by Ken Clark.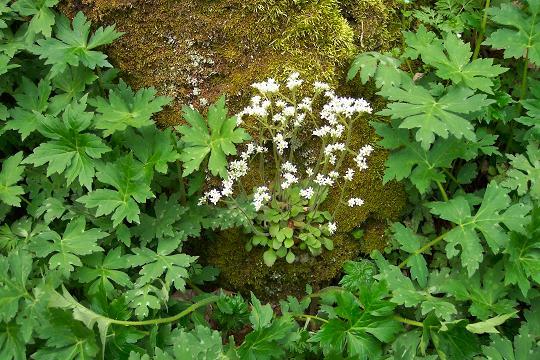 Early Saxifrage (Saxifraga virginiensis): Small clusters of fragrant white flowers on naked stalks from the center of oval basal leaves. Blooms April to June. As you can see they like rocks. Location: Shenk's Ferry Wild Flower Preserve, Holtwood Recreation Area, PA.
Bloodroot (Sanguinaria canadensis) : An early riser in spring. Grows out from under dead leaves on the Forest floor. Location: AT near Reeds Gap, VA.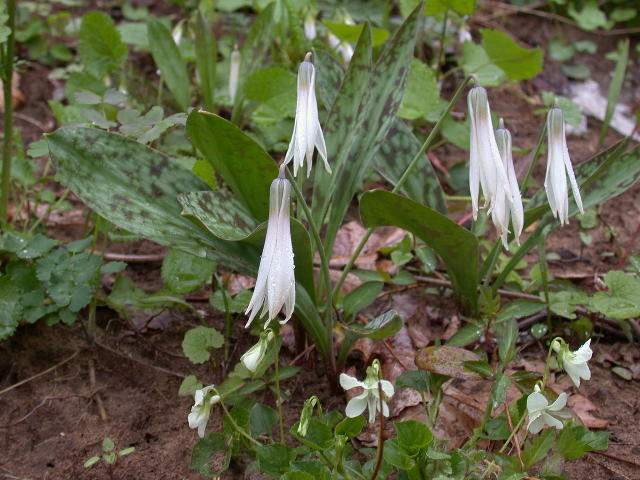 White Trout Lily (Erythronium albidum)
and Sweet White Violets (Viola blanda): the flower of the lily looks nothing like its yellow sister. Early bloomer. Great Falls National Park, MD/ Carderock. Photo by Ken Clark.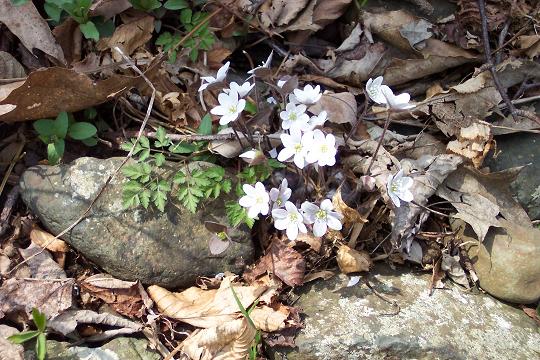 Round Leaf Hepatica/ White variant (Hepatica americana): Comes in blue, pink and violet. Early bloomer (March April) along streams and creeks. Location: Piney Run Trail, SNP, VA.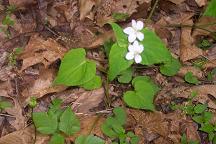 Canada Violet (Viola canadensis): Perhaps the tallest violet at a maximum height of 16 inches. Location: Jeremy's Run Tr, SNP, VA.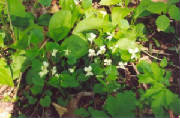 Sweet White Violet (Viola blanda): Found in shady areas. Common.
Garlic Mustard (Alliaria officinalis) is a very invasive alien plant. Environmental groups and government agencies conduct programs just to manually inhibit the spread of this weed. Note the heavily veined maple shaped leaves. Location: GWNF, Mau-Har Trail

Downy Rattlesnake-Plantain (Goodyera pubescens). Found in deep woods under brush. In the orchid family. Location Saint Mary's Wilderness, VA.
Whorled Wood Aster (Aster acuminatus) - Large, toothed leaves appear whorled around the stem beneath a cluster of flowers with sparse petals. Location: Saint Mary's Wilderness.
White Wood Aster: (Aster divaricatus): Note the stalked , heavily toothed, heart-shaped leaves. Often has a reddish stem. Location: AT, Three Ridges Wilderness, GWNF, VA.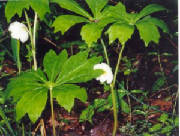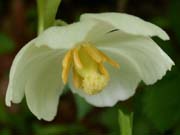 Mayapple (Podophyllum peltatum): One large, nodding white flower usually hiding under two multi-lobed thick leaves. Gives rise to crab apple size fruit which is a favorite of deer. Photo by Ken Clark.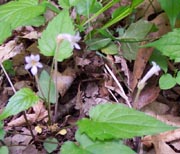 One-Flower Cancer Root (Orobanche uniflora). A parasitic plant. Blooms April through June. Likes damp areas. Location: Jeremy's Run Tr, SNP, VA.
Tall Meadow Rue (Thalictrum pubescens): A tall (3-4 ft) plant found in wet meadows and swamps. Blooms in June-August. Location: Gunpowder loop Trail, MD.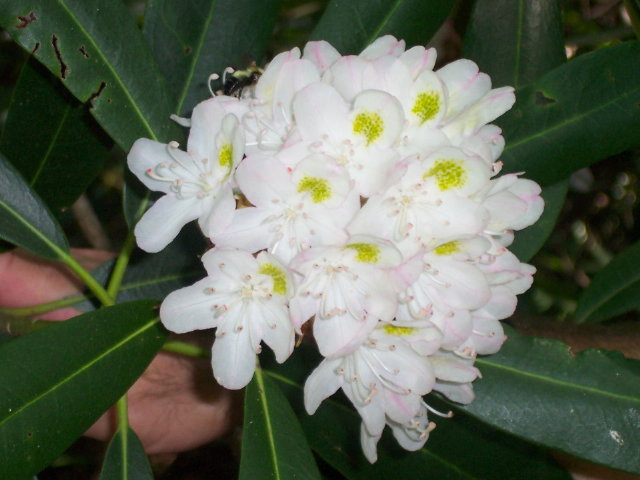 Rhododendron (Rhododendron maximum): Grow along water,in valleys and even on mountains. Bloom in July and are white to light pink. Location: Laurel Run Trail, Great North Mt., GWNF, WV.
Mapleleaf Viburnum, Viburnum acerifolium: Clusters of tiny white flowers bracketed by two maple-like leaves. Yields small black berries.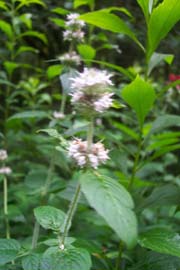 Water horehound (Lycopus americanus): A non-aromatic mint. Clusters of small white flowers around a square stem with opposing toothed, lanceolet leaves. Thrives in wet areas. Location: Williams River, Tea Creek Backcountry, MNF, WV.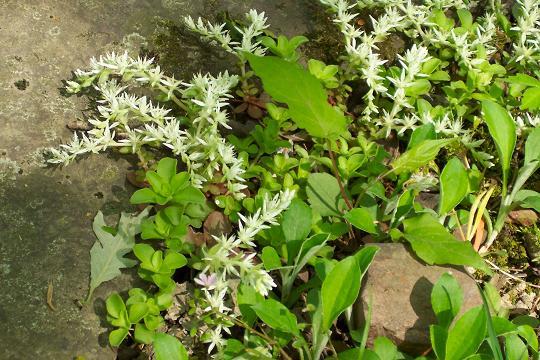 Wood Stonecrop (Sedum ternatum): Grows in rocky areas in the shade. Location: North Fork Mt. Trail, MNF, WV.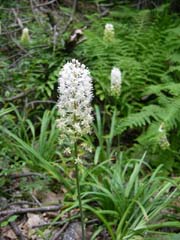 Fly Poison, Amianthium muscaetoxicum: A lily. Grows well in the shade. Native Americans and mountain folks mixed sugar with the ground roots to serve as fly poison. Location: Tuscarora Trail between Mill Mt. Trail and Stony Run Trail, GWNF, VA. Photo by Ken Clark.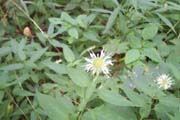 White Burgamot or Basal Balm (Monarda clinopo-dia): Found in the same areas as M. didyma. Location: Williams River, Tea Creek Backcountry, MNF, WV.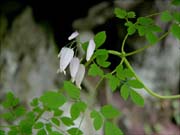 Climbing Fumitory, Mountain Fringe, Allegheny Vine (Adlumia fungosa): Vines can grow up to 12 feet in length. Likes to grow on rock faces. Location" Long Pond Trail. Photo by Ken Clark.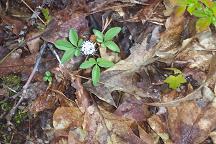 Dwarf Ginseng (Panax trifolium): 4-8 inches. Blooms May-July in moist forests. Location: AFT, PA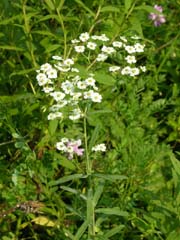 Flowering Spurge (Euphorbia corollata): Found in dry open woods and fields. Stems contain a milky juice which has been used as a laxative. An overdose can be poisonous! Location: Long Pond Trail, GRSF, MD. Photo by Ken Clark.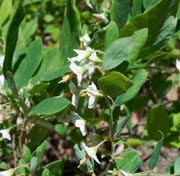 Tall Deer Berry (Vaccinium stamineum): A blueberry-like heath with wide open white flowers/w yellow stamens and pistils. Grows to about 6 feet. Blooms in May. Bears green to yellow fruit. Location: AT, James River Face, Gleenwood RD, JNF, VA.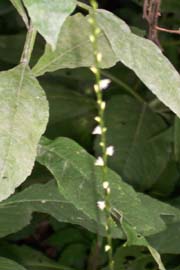 Virginia Knotweed (Tovara Virginiana): A smartweed. The bush can get quite tall. Grows in moist areas. Location: Along the New River, WV.